Export Commercial Invoice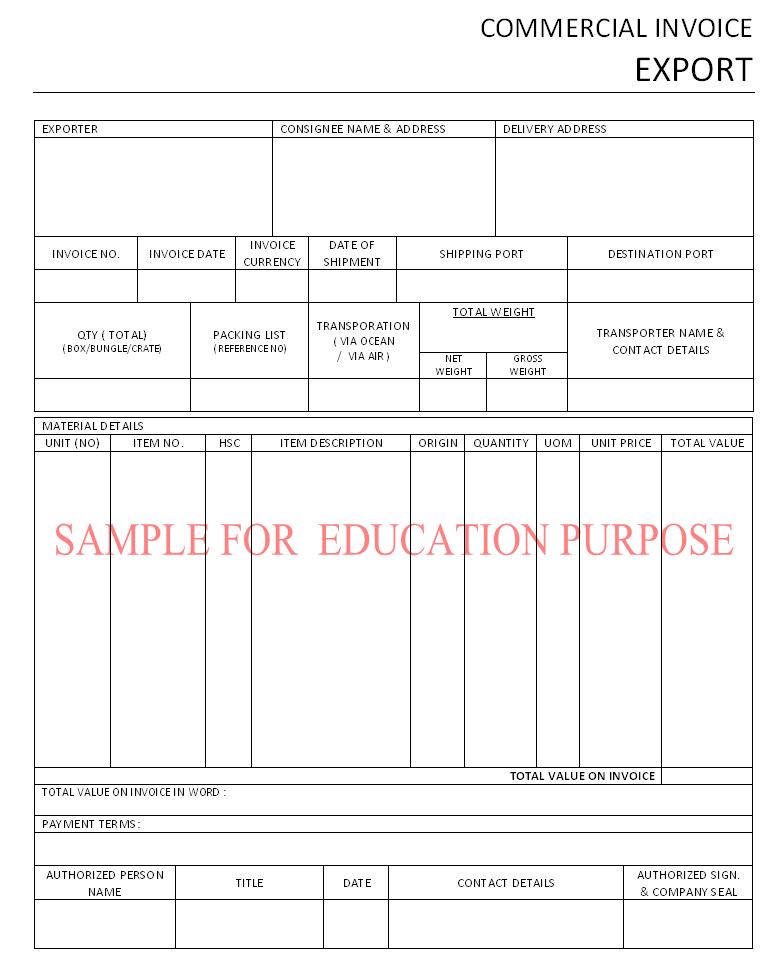 Exporter – Name of the supplier

Consignee name and address – Register office / plant / unit that order booked.

Delivery address – Name of the place / address when material will be deliver.

Invoice number and invoice date

Invoice currency as per international acceptance

Date of shipment

Shipping port – Name of the port from material load for shipping.

Destination port – Place of the final port where material will be unload

Total Quantity as per company product it can be box, bundle, crate etc.

Packing list is important part which is go along with commercial invoice, this document help to clear the material from the custom, without packing list its is impossible to clearance of custom.

Transportation – via ocean or via air option will be clear for the invoicing.

Total Weight – Net and gross weight needed for commercial invoice

Transporter name and contact details

material Details – Main part of the material which is going to export:
Unit number

Item Number

HSC ( Harmonized system code / Product code ) internationally acceptable

Item description

Material origin

Quantity and unit of measurement of quantity

Unit price and total value of invoice.
Payment Terms

Signoff
EXAMPLES, SAMPLES & FORMATS
EXPORT COMMERCIAL INVOICE IN WORD DOCUMENT DOWNLOAD FREE
EXPORT COMMERCIAL INVOICE IN PDF FORMAT DOWNLOAD FREE
EXPORT COMMERCIAL INVOICE TEMPLATES DOWNLOAD
EXPORT COMMERCIAL INVOICE IN JPEG, PNG FORMAT DOWNLOAD
You would also like to read:
SHOW CAUSE NOTICE SAMPLE FORMAT
BENEFITS OF QUALITY MANAGEMENT SYSTEM – ISO 9001:2015
DATA BACK UP OF BUSINESS ORGANIZATION