The process covers the new machine installation and commissioning at existing facilities and equipment used in the plant.
Introduction to Machine installation and commissioning in organization
The machine commissioning process is conduct by maintenance engineers. Maintenance engineers are implement this procedure at the plant level. This procedure cover new machine / equipment installation & commissioning at facility. Maintenance engineers are overall responsible to implement this process lies with plant head. This process is maintained and implemented for successful commissioning of machine / equipment at plant. Which is use for producing materials and supporting activities. Team also responsible for accurate alignment and comfort processes in production lines.
The maintenance engineers should be able to handling capital materials & utilities. They must have knowledge of functioning of process equipment, mechanical, electrical, hydraulics and pneumatic system. Generally, peoples who have project scheduling and monitoring skills can conduct the tasks to successful compliance. The maintenance manager is responsible for assignment of duties to maintenance engineers, monitoring and controls over the activities. Which includes the machine installation and commissioning at facility.
General Process 
The general process inputs for the machine commissioning, the new product development can cause of machine commissioning so its required to communicate with customers for collect the information about the production volumes, specifications and drawing of the product. The production department head should also needs to provides the required inventory goal with machine under operations. The existing plant layout and current setups should be needs to verify for further improvement.
During the processing this operation, require to verify the developing product with analysis suggestions. Mostly, the suggestions are from advanced product quality planning, risk assessment related analysis. Generally, the analysis is conduct to consider type of machines, production volumes and specifications. For the process outputs need to verify the project report for new machine installation, modification requirements in plant layouts, details of achievement in optimizing indicators as per procedures.
During the machine commissioning need to considering optimization in material travels, handling and values added use of floor space. After the installation and machine commissioning at the facilities assess the capability and capacity including preliminary process capability and other optimized indicators.
See picture below: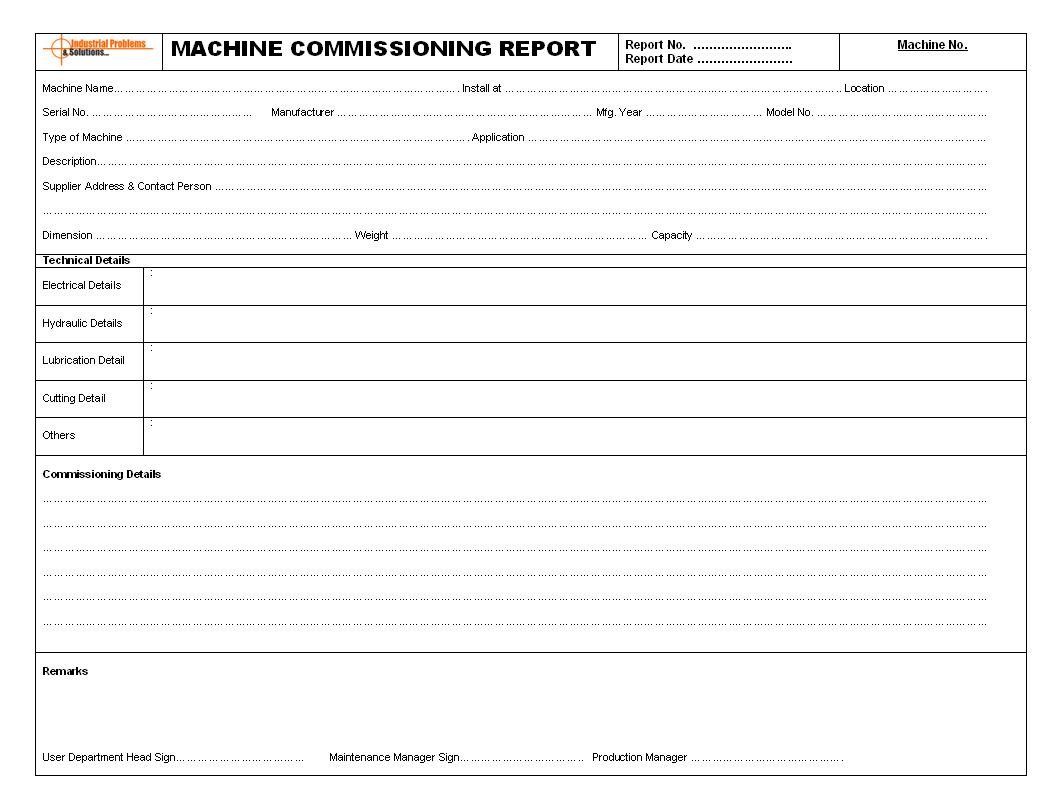 Documentation
The documentation for the machine commissioning is conducts by maintenance engineers, where overall details are mention and prepare. The report for submit to maintenance head for verification and review the process conducted. The report is use for the development of products, machine upgrade and other actions to implement quality of product. Hence the reporting and reviews process is maintain by maintenance team accordingly. The documentation for the machine commissioning is maintained as per standard documentation system.
————————————————————————
Download format in word document | Excel Sheet | PDF format
————————————————————————