MANAGEMENT PRINCIPLES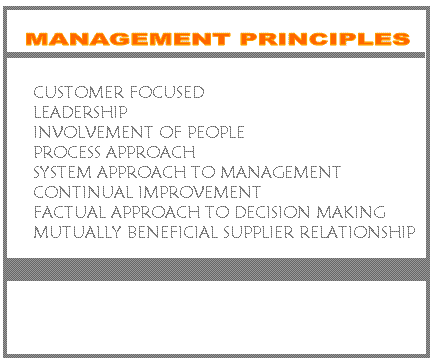 The management principles individually may be described as:
1) CUSTOMER FOCUSED 
1) Understand current and future (Explicit & implicit) customer needs.
2) Plan means to meet these needs.
3) Measure customer satisfaction.
4) Demonstrate continually improved satisfaction.
2) LEADERSHIP
1) Establish VISION, provide DIRECTION and SHARE VALUES.
2) Set CHALLENGING TARGETS.
3) Implement STRATEGIES to achieve these targets.
4) Coach, facilitate and empower people across the organization.
3) INVOLVEMENT OF PEOPLE 
1) Create OWNERSHIP OF DEPARTMENTAL GOALS and organizational policy.
2) Use knowledge and experience in operational decision.
3) Train for involvement in process improvement.
4) PROCESS APPROACH
1) Identify SCOPE of a set of business activity.
2) Identify (Internal/External) supplier/INPUT.
3) Identify (Internal/External) customer/OUTPUT.
4) Identify RESOURCES required to carry out the process.
5) OPTIMISM input-output relationship.
5) SYSTEM APPROACH TO MANAGEMENT 
1) Establish INTER-LINK of processed starting from identification of customer needs to delivery of final product/post delivery till use of product.
2) ALIGN the process with DEPARTMENTAL GOALS and ORGANIZATION POLICY.
3) Measure RESULTS AGAINST KEY OBJECTIVES.
6) CONTINUAL IMPROVEMENT
1) MEASUREMENT parameters.
2) ANALYSIS of performance.
3) MONITOR continual improvements.
4) Provide OPPORTUNITIES, TOOLS, & ENCOURAGEMENT to contribute to continual improvements.
7) FACTUAL APPROACH TO DECISION MAKING 
1) Identify activities, which will provide DATA.
2) Set mechanism for ANALYSIS data.
3) Analyze information W.R.T. PLANNED GOALS.
4) Eliminate non-value addition activities(e.g. reduce rework, improve machine efficiency, reduce wastage, reduce inventory, reduce process cycle times etc)
5) Identify the PROCESSES which need to be looked into along with the MEASURE OF CUSTOMER SATISFACTION.
8) MUTUALLY BENEFICIAL SUPPLIER RELATIONSHIP 
Build relationship with suppliers for their PARTICIPATION IN DEVELOPMENT of product, processes or system.