Segregation of nonconforming materials – incoming materials control
Segregation of nonconforming materials process is conducts to segregate defected, rejected and faulty materials from conforming materials by quality inspection process. The procedure is necessary for incoming raw materials for production.
Introduction to Segregation of nonconforming materials process
The procured materials inspection processes are conducted on various brought out parts, raw materials and all incoming materials are used in production lines. The segregation is sub activities of inspection processes on incoming materials are managed on after completion of inspection processes. To segregate the rejected / defected materials from acceptable materials. The requirements of segregation is to identify the materials received from supplier for production used.
This process is actually results of inspection
The segregation process is handled by quality team during inspection processes. The process is managed semantically on rejection, defect or damage materials identified during inspection. Materials which are received from suppliers.
The inspection processes is maintained as sampling plan, and inspect the material as per inspection standards. Team prepare inspection report or verify the supplier inspection report. Mostly, The materials are identify and segregate as:
Accepted materials are maintained with specific tag or color code like "Blue".
Rejected materials put with color code "Red" or as per standards system defined for particular segregation.
For the materials to be segregated should be maintained and arrange segregation in appropriate areas. That will be as per quality assurance's instructions.
Who will segregate materials?
quality assurance team is conduct incoming materials segregation process. Quality engineers are responsible for segregate rejected, damaged or defected materials identified during inspection processes. The procurement team is equally responsible for communicate with suppliers, segregation of rejected materials & proper storage separately. To easier for identification and traceability of materials.
The quality assurance team is maintaining documentation of inspection and segregation of materials. Storage department is responsible for maintain records ans storage all segregated materials. Quality team prepare records of segregated materials. All segregated material records are manage in segregation worksheet.
See picture below provided for education purpose: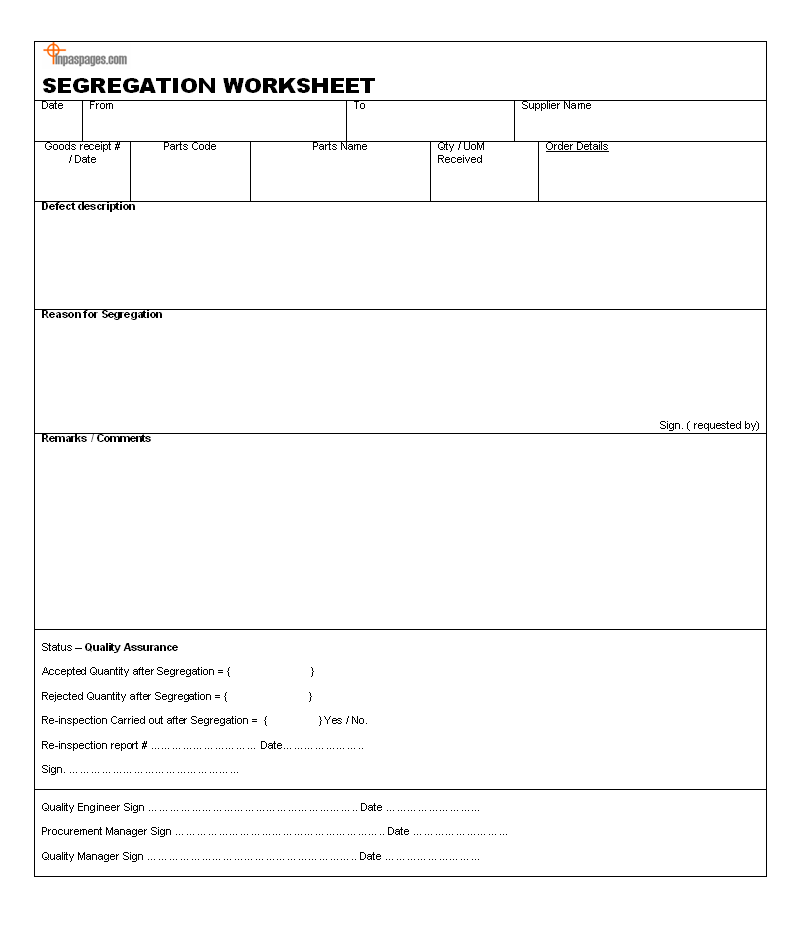 Segregation worksheet
Material Store Department is Segregation worksheet. Purchase team communicate with supplier for issues with materials procured against its requirements. The segregated materials can also re-inspect, if the production having any urgency and possible to accept in basic acceptable criteria defined for urgency. This format is maintain as per documentation system.
————————————————————————–
Download format in word document | Excel Sheet | PDF format
————————————————————————–