Management commitments, Role & Responsibility: Quality management System (QMS) + Environment Health & Safety (EHS)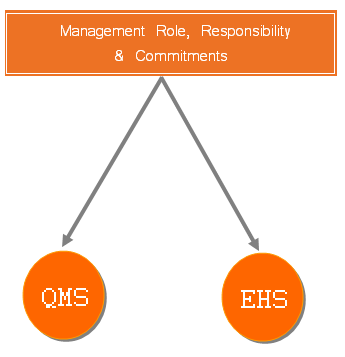 What should management commitments, role & responsibility in Quality management system & Environment health & safety purpose, its important part to implements any system that for successful runs in any organisation are due to management commitment.
To consider general role & responsibilities, commitments of managements to address QMS & EHS System that fit to each organisation who what to be implement in its organisation, management can put as key objective to achieve system requirements in its organisation.
Management role & Responsibility are as under:
Environment Health & Safety System
Overall accountable for non fulfilment of EHS, legal and other compliances related to EHS at workplace.
Ensure the availability of resources essential to establish, implement, maintain and improvement of EHSMS.
Defining role, allocating responsibility and accountability and delegating authority to facilitate effective EHSMS. Review it periodically.
Ensure the performance reports are presented timely and basis for continual improvement of EHS performance.
Overall accountable for any EHS incidence in the organisation.
Quality Management System
Establish a quality policy.
Establish quality objectives.
Communicate the importance of meeting customer, statutory, and regulatory requirements.
Management reviews are regularly conducted.
Provide resources necessary to meet Project requirements.
Continually improve the work processes and deliverable.
Above are common points that need to care by management, you can enhance that points as requirements of your organisation.