Process Flow Chart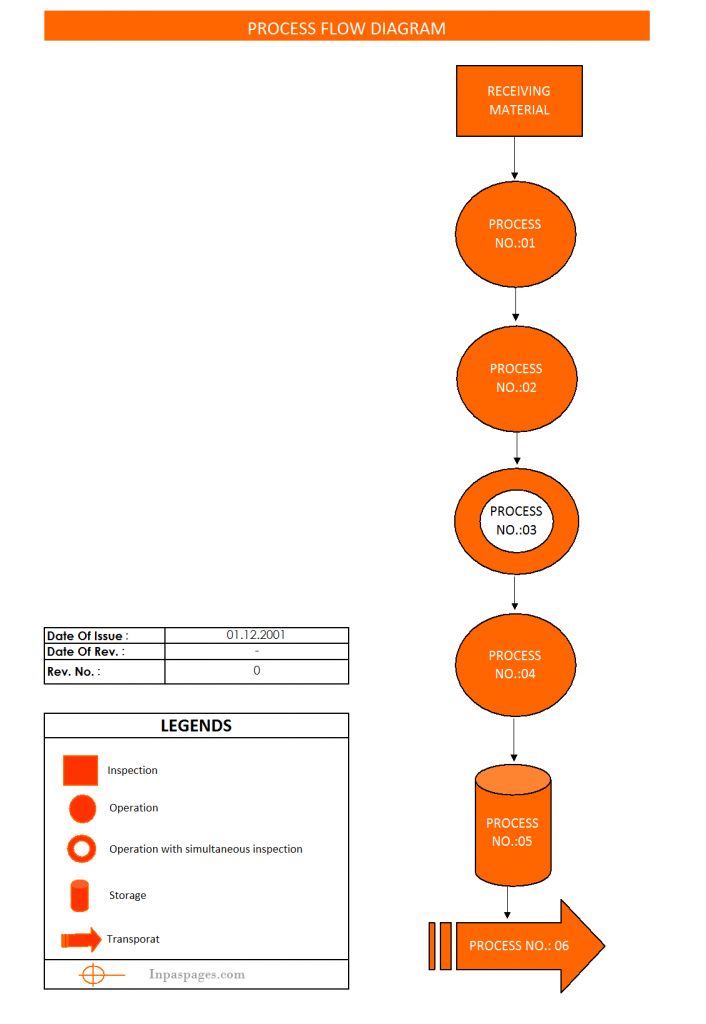 How to create process flow chart?
Process flow chart is prototype of the processes are established, implemented & maintained in organisation, PFD ( Process flow chart) or Process flow diagram is mirror of the production process system that easier to understand how the product is moves in production line. To make easier see below format for process flow chart of process flow diagram, how to fill up & indicate each process are shows are signs to better understanding:
NAME OF COMPANY

PROCESS FLOW 

DIAGRAM

DATE:
REV. NO. & DATE
PART NAME &  NO.:
PROCESS :

OPERATION. NO.

OPERATION DESCRIPTION

FLOW CHART

PRODUCT CHARACTERISTICS

PROCESS CHARACTERISTICS

O1
MATERIAL
RECEIVED
 
Material
properties Checking, sizes etc..
Spectro
Analysis, Visual etc..
02
PROCESS -01
03
PROCESS -02
04
PROCESS -03
 
05
PROCESS -04
06
PROCESS -05
 
07
PROCESS -06
On Above process flow diagram, Operation No are mentioned that continuous sequence are maintained in process flow that in production line as physically maintained on floor as against process numbers are mentioned that indicating the process are on same operation number are being in production line, process no is for understanding, you must change as your process name where real process are in your organisation against product characteristics you can see in process flow diagram, you have fill up the for each process with characteristics, example for your understanding are mentioned in above process flow diagram.