Operation breakdown Documentation for manufacturing
Operation breakdown documents are managed to improve productivity of manufacturing processes & resources engaged with operations.
Operation breakdown documents are established to managing manufacturing processes operation activities & reasons of breakdown are handled for improvement of productivity of each machine, equipment, manpower and time management are engaged with various operation, the process of the recording and managing each operation breakdown to evaluate incident & identification of proper solution of each issues raised during manufacturing operations handling to producing materials or supporting tasks of product manufacturing, the processes and its documentation are help to determine analysis and action plans to improve manufacturing productivity by proper analysis results & implementation of action plans. Operation breakdown documentation & it concern process is established by maintenance department, the concern engineers are verify the operation breakdown to verify the process operations, condition of process stages and machine, equipment processes, the activities are managed for minimization of breakdowns in operations by identification of reasons that sources of breakdown are managed, and also conducted analysis by production manager for affected time management in manufacturing operations.
Operation breakdown documents are managed by production department, production manager is responsible for collecting information from each department, locations i.e. production lines to managing and analysis requirements for improvement of manufacturing operation, the process is managed and its concern documentation are handled by production manager and same the operation manager and maintenance managers are involved in the processes, to discuss issues that raised during the time frame, the records are maintained by production manager is operation break down sheet is used for managing activities of discussion, analysis and improvement at various areas of the production lines.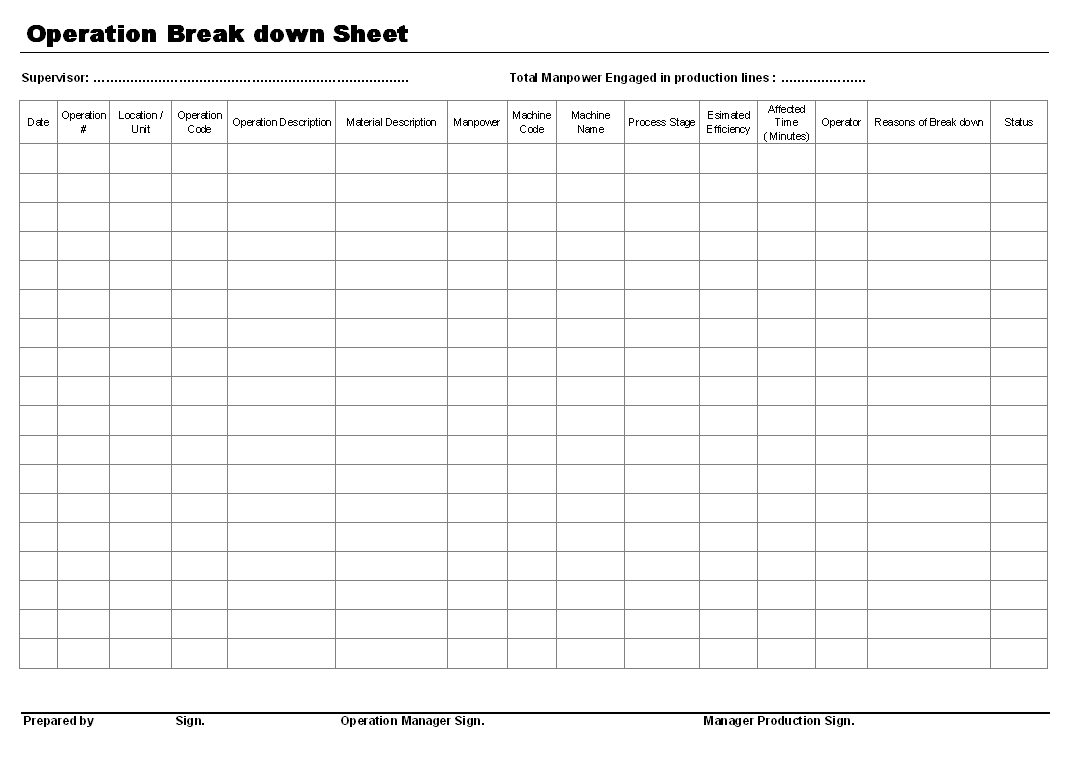 Operation breakdown sheet format is used for recording information of each breakdown occurred in manufacturing facilities, the process is managed and its records are collected, merged in the format for analysis and improvement of manufacturing operation, resources productivity to minimize costing, efficiency of each resources engaged with manufacturing activities. The operation breakdown entries are handling by concern supervisors and provided details to production manager, once all details are received from various department that production manager managed analysis for each operation improvement and minimize numbers of break downs.
Other hand manufacturing unit should have a all the operation, activities and processes indexed in register or specific format to identify & controls over operation as well as detailed information in case of any operation breakdown raise, the internal system should be fully optimized to easier to tracking each operation and manage operation breakdown separately. see how to operation record sheet are managed in manufacturing units and what type of records are needs to maintain.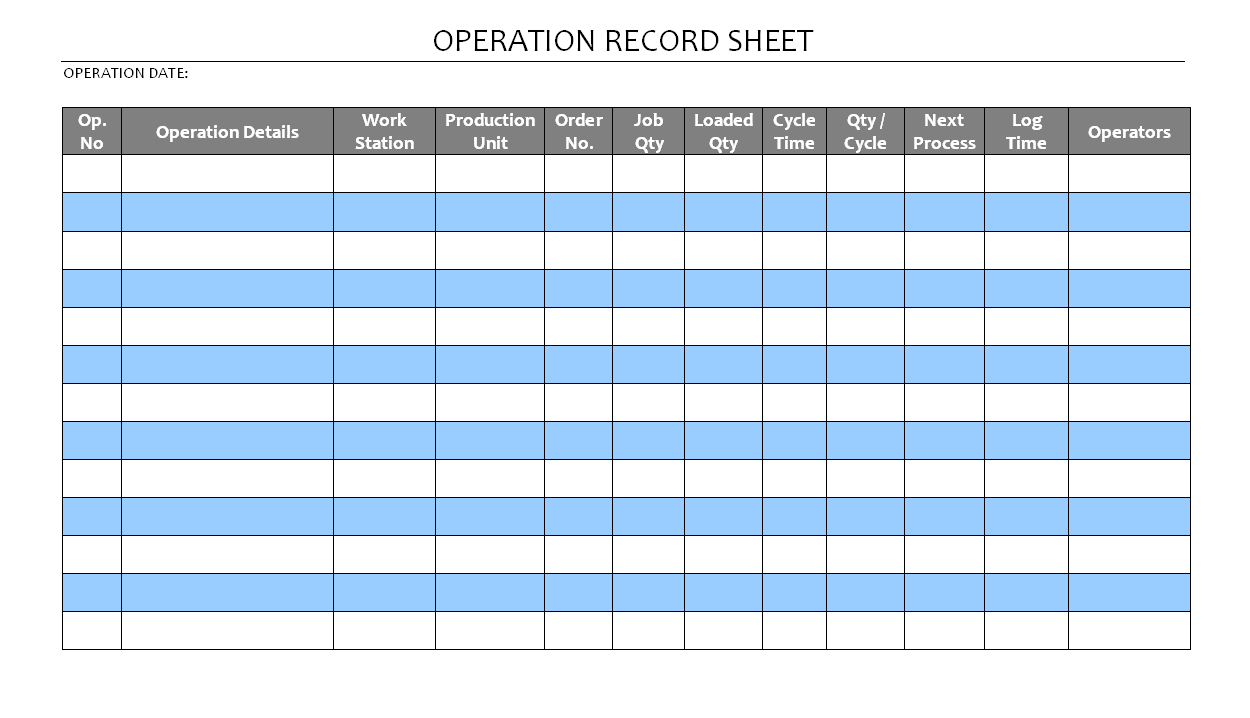 Operation record number should unique number to possible for tracking, monitoring and controlling on each operations.
Operation Details – information about operation, how this operating is works in manufacturing process sequence, what is the importance of operation.
Work station is the base unit form that all the operations or individual operation are being perform, details of workstation.
Production unit is whole unit where defined by company to identify unit where nos. of unit are works individually.
Order number – Number of order / work or job order that unique, sequence that peoples are works, identify & used as base format to work flow.
Job Quantity of the order or used for the particular product.
Loaded Quantity is the quantity which is loaded for operation out of total job quantity, some time there are not possible to whole lot or job quantity are loads for particular operation or manufacturing process once in time.
Cycle time – for the some lot / batch or measure quantity process / operation how much quantity can possible to manufacturing or proceed in limited time frame or measured time frame.
Quantity per Cycle – as against the measured quantity per cycle in actual what quantity is actually passed.
Next Process – what will be next process or operation for lot / batch or particular quantity which is taken for operation?
Operator – whole operation, how many operators are works on floor, name of the operator (s) are performance.
—————————————————————————
Download format in word document | Excel sheet | PDF format
—————————————————————————