Product design inspection process
Product design inspection process is conducted for inspecting product design to ensure that design inputs to meet product requirements.
Product design inspection process is established for conducting inspection process for product design, where all the required stages are verified, inspection of requirements of customers concern and inputs that determine product perfections are verify to ensure the product design meet the customer requirements with product and its quality concern. the product design process is conducted and process owner is design engineers that product design engineers are managing each activities concern product design as per customer requirements, technical and specific requirements, the inspection process for the product design are managed in each processes & sub processes  and product design procedures as per internal audit / inspection system. In the product design inspection processes are managed the planning and scheduling design project concern activities and processes to identify the project planning is properly managed & adequate for product manufacturing processes. The inspection process is conducting the records, where all the reviewing and controlling design inputs are verified to ensure that product design reviews are managed properly. The system of auditing of product concern and design are manage for inspection to setup the performing design activities, conducting design reviews and its concern records, the inspection processes are also conducting the verification and validation of product design that help to determine the processes of product design and validation, controlling and monitoring processes are validated properly and as per product design's standards requirements.
The product design inspection process is established by general manager, and general manager is responsible for selection of qualified inspection team, providing documentation for inspection & and mange the inspection processes for product design, hence inspection team is responsible for conducting product design processes as per scope, and concern documentation. For conducting product design inspection process, general manager is responsible for providing documentation where product design concern checklist which is prepared to contribution of product design manager as structural inspecting the department setup. See picture below given as example format of product design inspection checklist for education purpose: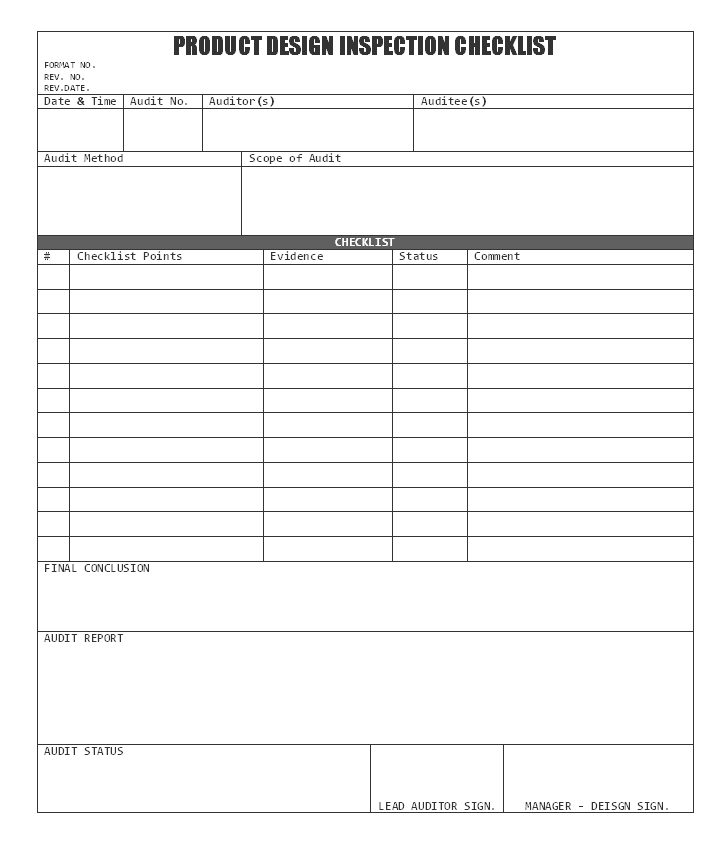 Product design inspection checklist list covered all information, specification and requirements to concern of product quality, inputs of the design & output that meet to product requirements and customer specific / characteristic requirements. Some basic requirements and points that help to determine product design inspection are given as below:
The general requirements of product designs and needs to determine, documents and reviews and approvals of design inputs should be covered requirements like functional and performance requirements, statutory and regulatory that directly affecting government laws and general applicable requirements with product design, or output. And the design team should determine and confirm the responsibility for the reviews and approving the inputs and its documentation and records handling and implementation, same ways the inspection team is conducting the records and documentation for verify the inputs of each part of the product design and implementation of the design. The inspection processes and its concern documentation are maintaining as per internal management system standards and product standards requirements.
——————————————————————————
Download format in word document | Excel Sheet | PDF format
——————————————————————————