A product standard process time management is systematic technique may help to sustain standard time frame for each product cycle in production lines.
Overview
Product standard process time management establishment require to ensure the production lines are producing the product as per standards, technical requirements and acceptable criteria. It may help to ensure the accurate product cycle time. Some of the things that may important for the maintain standards as following:
Take the specific quantity of products to producing materials as standard "quantity". It should be use as specimen sample quantity.
Secondly, require to setup the standard parameters of Machinery & equipment.
Use the resources as standard procedures & work instructions are describes
Maintain the time cycle as standards, product standards & technical requirements.
These considerations will be helpful for manage the product standards process time management.
How to sustain the product standards in manufacturing processes?
Each product running in the manufacturing facility with specific standards, technical & specific characteristics requirements are managing on particular parameters. As well as machine and same the unique process is verifying as visual inspection. Even it should be requiring to verify for the process is sustain as standard process.
Obviously, in the manufacturing process, management may conduct the tasks to establish product standard process time management. Which is deploy in manufacturing units as process management. But it may obvious that each product standards, sizes and its requirements can be varying. So, it should be verifying each product as per standards to meet end application requirements.
How to implement the process?
To effectively implementation of product standard process time cycle, require to review each tasks, to ensure the standard cycle is accurate process time cycle. To maintain the time management for each product, require to verify the manufacturing process facility. Where product wise and standard wise, as well sizes and dimensions should to verify. Hence, the entire cycle for particular product can be easier for monitor.
Obviously, each product's standard process & time cycle can be varying and its own cycle time for each process. Hence, it is very important that, each process should be monitor and record with its specific format. Even the parameters of machinery and equipment is also paying important role in time cycle. Hence, you have to check the speeds, setup of machinery and equipment, and impacts on standard process.
Review the product standard process
The reviews of the entire process standard process is very important to sustain the procedures. The review team may verify the each factors of the process including standard process time cycle. As you know the product standard process is the process for sustaining standards or product manufacturing and its time management. Hence, all the potential factors can be consider for reviews. It may contain standard dimensions of product, process cycle time, machine parameters, resources, and manpower.
Product standard process time Format
This format may help to record each and every process, stages, and products that rolling in the product cycle. The product team is prepare the entire documentation system related to product standard process. Even they review on after fill out the format to ensure the existing cycle and process. It may help to ensure that the product is accurate, reliable and as per standards. See picture below given as example format of product standard process time format for education purpose: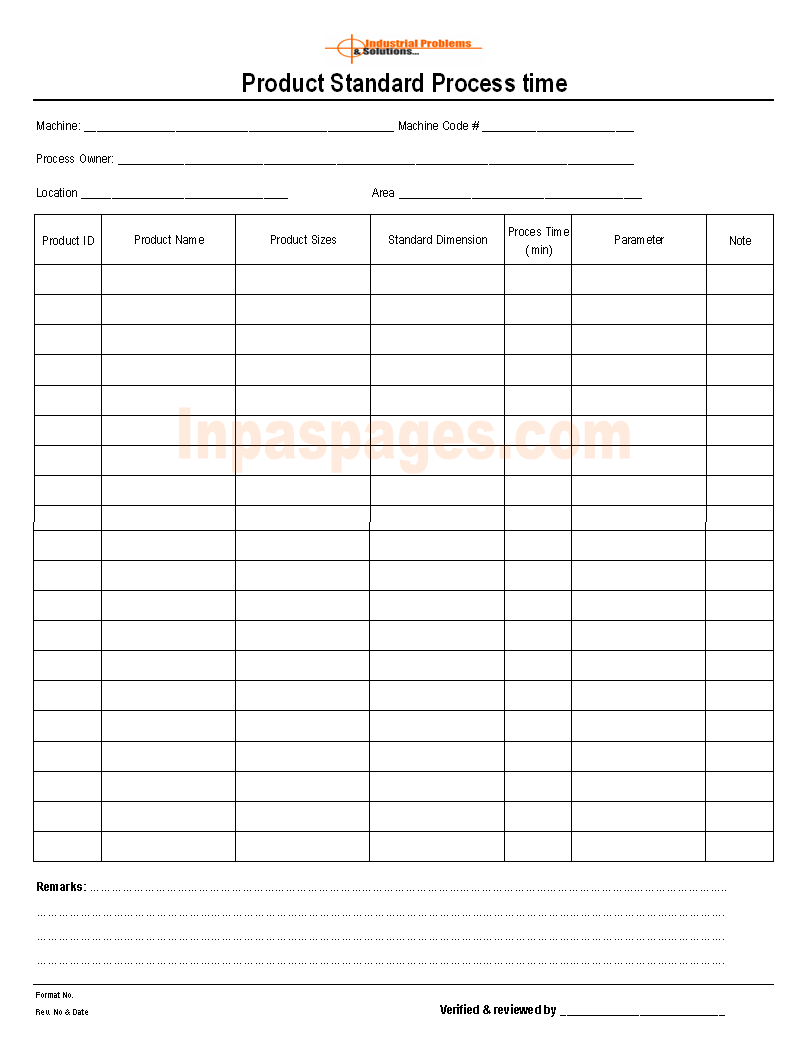 This format is use to recording information of verifying processes. To identification of standard process time of product. The manufacturing processes are verify as per product configuration, and process requirements. The process management & time management are similar processes. Even its verify to sustain the standard system of manufacturing facility.
—————————————————————————-
Download format in word document | Excel Sheet | PDF format
—————————————————————————-