Spillage control is method that implement for identification of necessary control measures & stages helps to prevent incident at various levels & locations.
Spillage control documentation
The documented procedure which will identify all the necessary steps to be determine necessary control measures. As well actions and steps to take in case of spillage incident occurred at identified maximum places. Objectively the procedures manage the controls to determine proper control measures. Even implementation of action plans to avoiding spillages at various ways. These various levels and locations to eliminate possibility of contamination of soil, controls over hazards and risk levels. It may help to minimize possibility risk for human heath & safety concern requirements compliance. The documentation for the spillage control can be manage, department wise, location wise, overall registering and analysis documentation. For the effective documentation needs to identify inputs of spillages:
Inputs of spillage incidents
Regular daily / monthly / weekly verification (daily Safety inspection walk sheet) is inputs of basic inspection. It can  by visual monitoring on activities, processes, rating hazards, monitoring of peoples. Where locations soil inspection are manage for verification. The spillage type, category of spillages, quantity of regular spillages at locations where inspected.
The records which are use in department internal records are also inputs for the spillages. The daily use of fluids records are verify by concern department head. Even and waste records are match and identify in case any spillage records are missing. Reviews are conduct on basic level but the records outputs can identify spillages by visual. As well document records of internal department register, stock records and visual inspection of floor by concern department manager.
Internal audit is one of the important inputs for the spillages at the floor.
How to define spillage controls?
The above inputs are used for the analysis of spillages to identify proper controls. The analysis is manage by environment, heath and safety system management representative. Where all the details are conduct and identify very risky sites. Where maximum volume of spillages, frequency of spillage, spillage liquid hazard category etc.., are considers for the risk levels.
Hence the important task is the identifications, managing category for each locations, risk levels and setup the priority to define controls on the spillage at targeted locations.
Implementation of spillage controls process
Implement of spillage controls are manage as per scope of the requirements. The spillage controls are manage on the priority, risk management, hazardous categories and frequency of spillages. The concern points are consider for verification and analysis to deploy for controls by implemented methods of controls measures. The steps that may helpful for the implementation:
The system of controls to manage the entire activities concern spillage incident occurs during the years and months are analysis to verify records.
Any spillage should be immediately report to concern manager to provides information of spillages at locations, and should be immediate inform to authority. The authority can be human resources or cleaning authority to conduct cleaning processes.
That is weeping or vacuuming any mode, to ensure that spillage liquid and its particle are completely remove from floor or as dropped.
The all collect spillage liquid should be properly dispose, or as per waste management system.
The concern authority should be verified the processes on the completion of the tasks.
Department manager is also equally responsible for verify the cleaning process. As well investigation of spillage at the location. This may help to improvement of procedures to minimize of spillage, as or frequency of spillage.
The management should be take the effective actions on the spillage incident occurred during conducting various processes that are handling, moving, storage, use & waste of materials are general. The sequence processes and outputs of the processes that needs to controls on all the sequences that generating or raise spillage.
Some extra effort for maintain cleaning
For effective controls over the processes needs to provides require resources to easier for handling the materials mostly for fluid materials to controls over spillage during transportation. Hence the peoples should be well educated / trained to conducting handling, moving and storage processes.
The storage should be well defined to easier for removing any liquid at the needs at various processes, all the liquid should be properly stacked to manage each liquid without affect another. All the effected areas or identify areas at frequency spillage are recording during the time frame. That needs to manage inspection and needs to make improve frequency of inspection. It will be easier for identify reasons of spillages, requirements of resources, training or any other improvement to minimize or eliminate possibility of spillage.
Spillage Control log
See picture: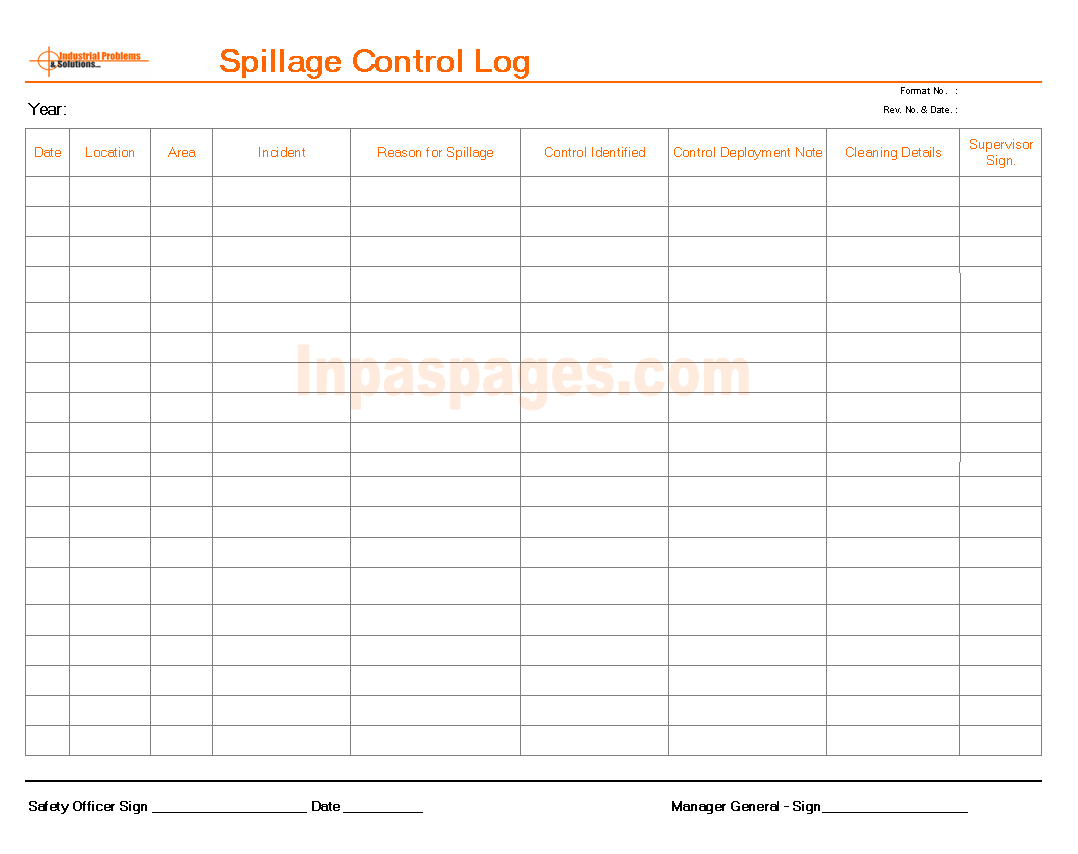 The above picture is spillage control log format is providing for education purpose. The format is use to recording information for spillage and its controls. To identify the locations, processes, reasons of spillages and detail incident to easier for tracking each spillage incident occurred at workplaces.
The analysis team is manage this records to identify and define controls to communicate with concern department. Management representative and management to ensure that the define controls are accurate and minimize risk levels, volume of spillages and controls over the frequency of spillages to maintain safety at workplaces. The documentation are maintained, update, storage and disposal process is conducted as per documentation system.
————————————————————————-
Download format in word document | Excel Sheet | PDF format
————————————————————————-