Purchase order Review Form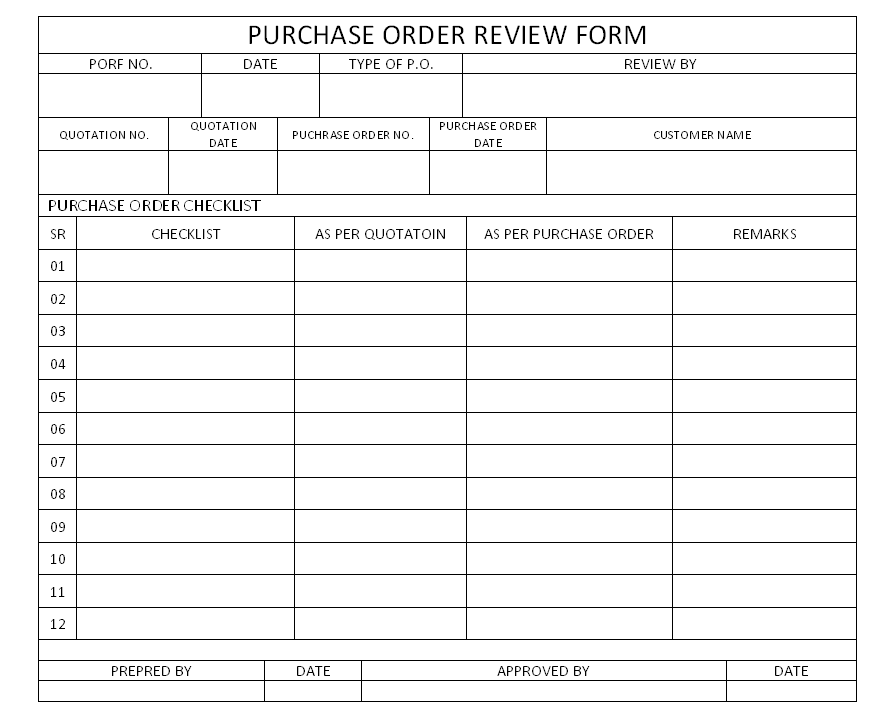 Purchase order review form number – unique identification number for sequence of the formats.

Date of the purchase order review

Type of purchase order – Details of the purchase order is the latter of indent, scheduled purchase order or simple regular purchase, its categories are depends on company individually.

Review by – Details of the reviewer name

Quotation number & Quotation Date – Quotation that given to customer against customer had released the order which is going to reviewed.

Purchase order number and Date – Purchase order number is generated at customer end and date of the released by customer.

Customer Name  – Name of the customer

Purchase order Checklist – This purchase order checklist is the main part of the form review, when the customer is given purchase order against offer given by supplier that all the terms and conditions, design, payment terms, delivery schedule etc.. Information are need to compare as per the offer against purchase order given by customer, mostly rates and commercial terms are most important for the purchase order review. In the checklist some basic and regular required information are mentioned and follow up for the checklist.
EXAMPLES, SAMPLES & FORMATS
You would also like to read:
INTERNAL AUDIT CHECKLIST FOR MARKETING
QUALITY PLANNING SIGN-OFF FORM