Trial report form format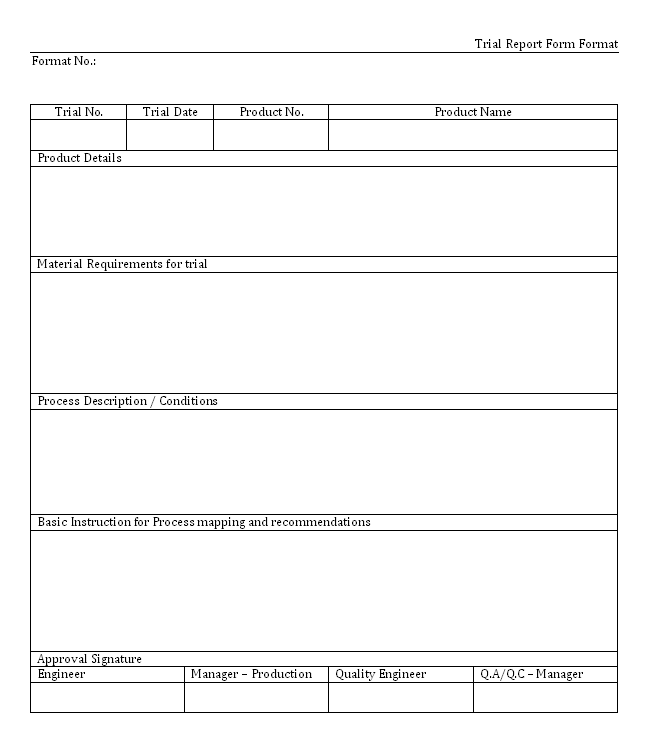 When the company are though about improvement in product, new launch product or change in the process that need to take the trial for the same, each trial of the process, products and process change are given the some result as expect or unexpected that depends on the changes are made in the current process. In the manufacturing unit, trial and success is the part of the process manufacturing, each unit need to take the trial of the new process that going to establish in industry, mostly industry are takes the two to three trial of the each process, all the process and trials data are collecting and deep analysis can gives the right pictures of the attempt are taken for the trial.
Records of the each trial are need to maintain for the analysis and further action requirements to enable design the process for the real product implementation. Trial report form format gives the complete information for the trial had taken in manufacturing process.
As the simple trial report form format details are required to records the movement of the attempted as below:
Trial Number and Trial date
Product Number, product name and Product Details
Required material for trial
Process description / conditions of the process that taken trial for the particular product
basic instruction for the process and its mapping and recommendation on base of the previous experiences
EXAMPLES, SAMPLES & FORMATS
You would also like to read: