Resolution letter sample
What is Resolution Letter?
Resolution letter is a document, write for various purpose. Its all depends on the purpose, and use of the resolution letter. Such as if organization want to resolute some single person or group of personnel are work behalf of top management. Management resolution letter prepare for declaration of the change.
Who can pass resolution Letter?
Board of Directors only having a authority to passed resolution if any assigned post can reflect business, its very important meeting & all the parts of the factors are discussing by directors & then passed by board. The whole process are being close door meeting that declarations, materials of meetings, discussed points should be confidential.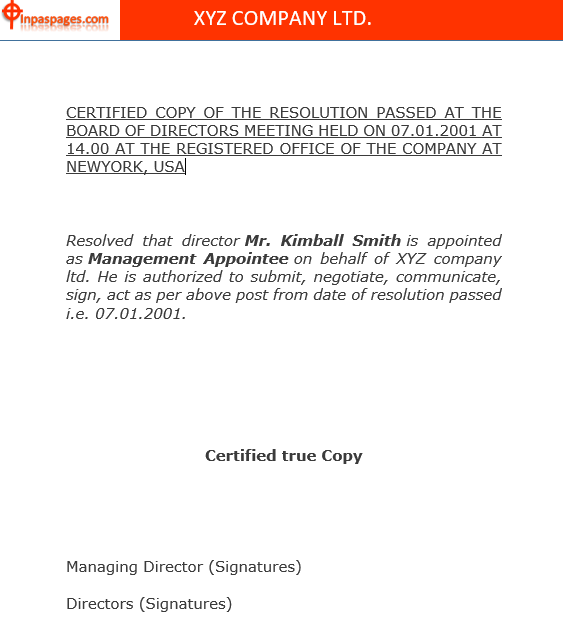 —————————————x—————————————
Sample Copy of Resolution Letter
—————————————x—————————————
CERTIFIED COPY OF THE RESOLUTION PASSED AT THE BOARD OF DIRECTORS MEETING HELD ON 07.01.2001 AT 14.00 AT THE REGISTERED OFFICE OF THE COMPANY AT NEWYORK,USA
Resolved that director Mr. Kimball Smith is appointed as Management Appointee on behalf of XYZ company ltd. He is authorized to submit, negotiate, communicate, sign, act as per above post from date of resolution passed i.e. 07.01.2001.
Certified true Copy
Managing Director (Signatures)
Directors (Signatures)
—————————————x—————————————
Note : Type this letter on Company's Letterhead
—————————————x—————————————