Resource Request form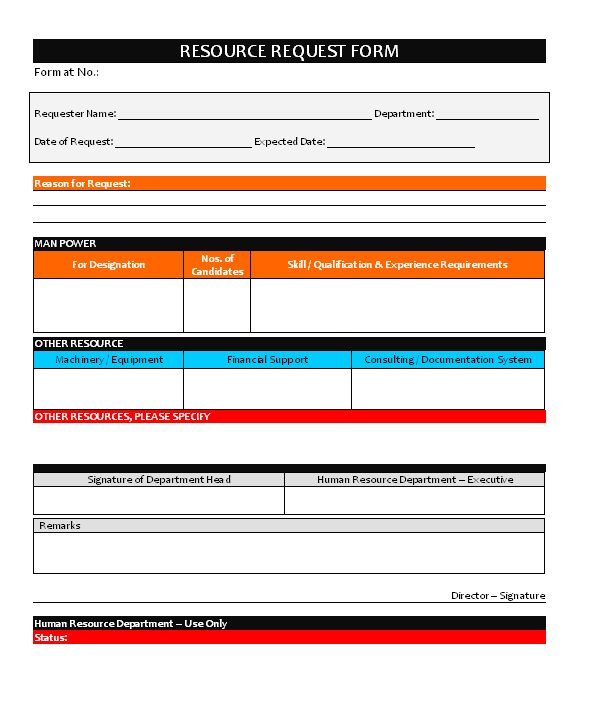 Requester Name – name of the requester that applied for the resource request, in this format all the concern resources are given for option.
Department – Requester department i.e. resource required for department
Date of request
Expected date of resource
Reason for Request – what is the reason for resources are required and applied for it.
Manpower – resources required
–         For which designation, Type of man power required?
–         Specify how much quantity of the manpower required?
–         Skill / Qualification and experience required for any special task that need to specify, human resource will be consider the requirements as per indicated in thi format, hence the skill and experience requirements is very important for human resource' selections.
Other resource required
–         Machinery / Equipment – Requirement of machinery / equipment, tools or the concern material requirement can filled here to easier for understand by management of requirements.
–         Financial Support – If the department having requirement that financially concern issue for the budget and over budget requirement that can filled here.
–         Consulting / Documentation system requirement  – I n some cases that third party consulting requirements for the advice or some special documentation that need to prepared for the improvement, enhancement or complete the project.
Remarks
Human resource department, approvals and signoff
All the requirements for the resource & planning can be made on depend on the requester's priority, if the management understand that the requirements not need or any alternative ways are possible for the compliance of the requirement that can possible to request can be reject in case.
EXAMPLES, SAMPLES & FORMATS
You would also like to read:
CONFIGURATION MANAGEMENT TEMPLATE
HUMAN RESOURCE CHECKLIST POINTS
PERFORMANCE EVALUATION FORM : HUMAN RESOURCE