Service Report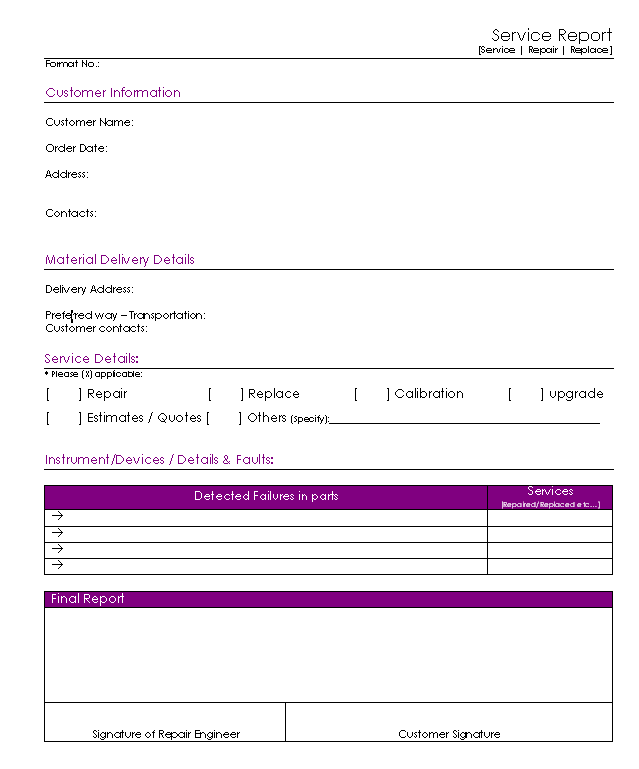 Business services providing companies are almost gives the service report to the customer that is complete the cycle of the service are done during the period, when customers are gives the order for the services of any instrument, devices, machine or equipment that, service providers are gives the format estimate for the services and possible replacement / repairing required for the instrument that business service provider that is repair / replace the material than after release the report that is service report
Service report is acknowledge report or also can say this is submission report of the works given for the particular parts/ instrument / equipment. In the service report generally below parts can be include:
customer information
material delivery details
service details
instrument / device / equipment failure and replace details or service
in the service report, first part used for the customer information there are all the concern details should be mentioned to return any problem occur that service provider easier to understand & reach at destination of the customer without much information given at time of the second call.
Second part is the material delivery details, incase of during service any parts are need to replace that service providers are send the material at the customer side, all the concern freight charges are bear by customer so in the service report the information must be included. And same way incase on the part of equipment / instrument are not possible at customer place that this equipment / instrument or machine are move at the service provider place and same with return when parts are working fine that service provider return the mailing address, mostly this charges are bear by customers.
In the third section of this report is very important part that what was the done with the equipment / instrument / machine or part that cleared mention in this parts, if the part is replaced / repaired or upgraded or calibrated that all the details are need to mentioned in section four that is information about the failure parts or repairing of failure parts or any treatment that need to mentioned in it. Same way in second column's second part that is indicates which type of service provided for the failure part.
For the ready made format here is available service report format, after download you can edit, remove, and modify any field as requirement.