Canteen and Pantry Room checklist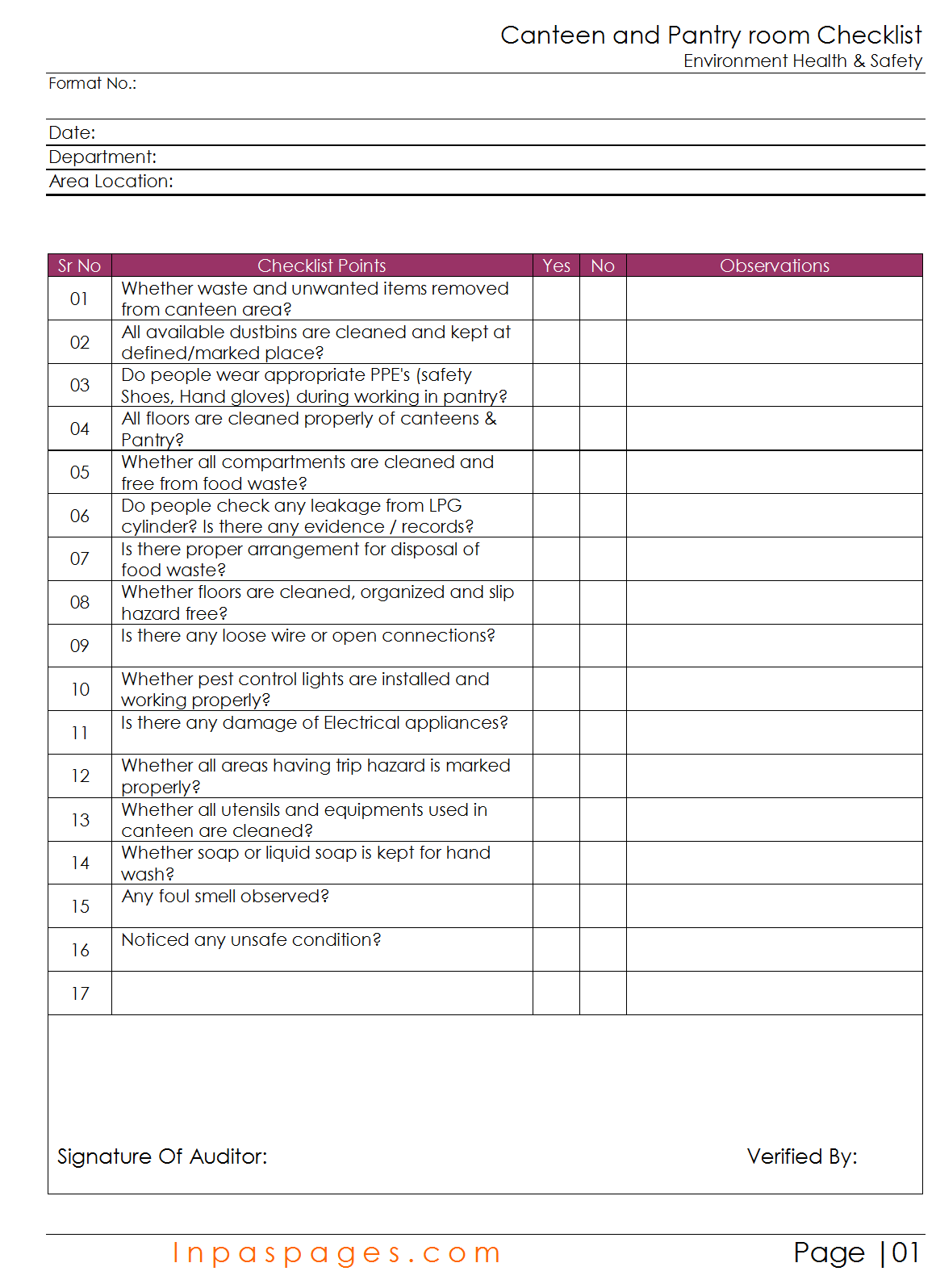 For the safety purpose or cleaning of respective foods waste are need to clean timely at the places of canteen and pantry room, for the requirements of the safety and health concern for the canteen and pantry room as per international standards ISO 14001 / OHSAS 18001 – Environment Health & Safety that prefer the canteen and pantry room's safety and health concern requirements are need to fulfill, there as below some points that help for the to cleaning & create safe environment of regular practice & monitoring controls are prevents:
Whether waste and unwanted items removed from canteen area? – expecting that there are no waste of any kinds that papers, plastic bags, cloths waste or tea waste, food waste that need to immediate clean & dispose as instructions.
All available dustbins are cleaned and kept at defined/marked place? – Each dustbin need to identification number to cleaner can easy to understand that which dustbin still not cleaned, they can schedule dustbin for cleaning, if the schedule is proper work, no one dustbin will miss out for cleaning.
Do people check any leakage from LPG cylinder? Is there any evidence / records? – LPG gas lines and cylinders are need to checking properly, LPG can check with smell, actually daily or frequently checking of the LPG line can minimize risk work at canteen and pantry room.
Is there proper arrangement for disposal of food waste? – Waste food disposal is necessary that organic material when are store at one place that being high flammable after moisture out from organic material, need to disposal timely.
There are too many question that need to individual understand and focus on subject that help to keep safe environment of the organization, even it's also try at home too. Download canteen and pantry room checklist: