Statistical Process Control (SPC) Study Plan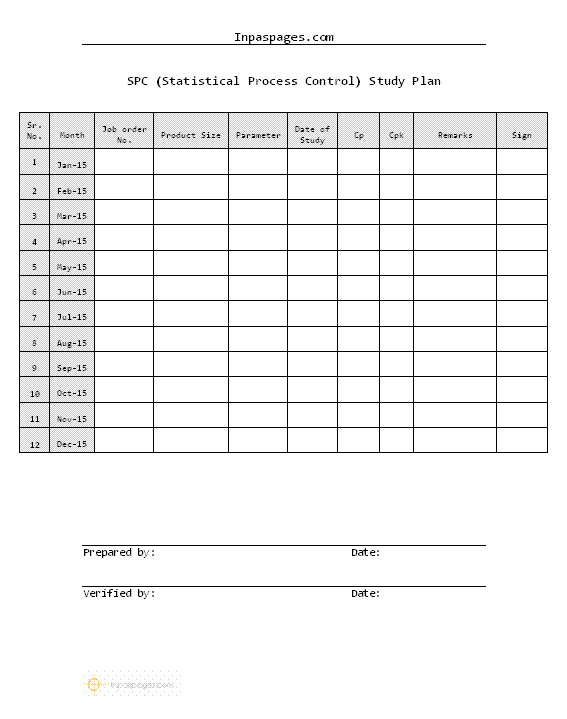 SPC Study Plan is the process of data Analysis through structure statistical processes and controls study output. The statistical Process control method to improve quality product, enhance productivity and controlling, reducing cost that not visually can not be realized.
In the statistical process control, a primary understand the variations and its controls in processes, by the SPC study all concern processes analysis & controls, difficulty is each variations having a special cause and structure that not easy to measure, monitor & control that grate way to graphic presentation as per statistical data process are done.
Statistical process control (SPC) is simple statistical process that represent with simple graphical, also consider as graphical tools that make possible process performance examination.
Statistical Process Control (SPC) is not easier to describe in few sentence, but here we talk about the Statistical Process Control (SPC) Study Plan for the yearly that not considered as financial year, but you can also manage as April to March is not issue.
In the planning section, here as picture above see the required fields to maintain the performance as scheduling the when SPC study are need to done off course it show monthly but can also possible as product size wise or order wise, important is findings of the variation, deviation through processing of statistical data analysis & controlling on it.
Statistical Process Control (SPC) Study Plan should be maintain as per parameter set, cp, cpk are primary requirement to understand on which part are preliminary requirement to controls.
Statistical Process Control (SPC) Study Plan provided yearly data that help for further analysis like a by the year how much variation, deviation can possible to observe same will be possible for the further actions to continual improvement.
—————————————- Download —————————————-
Download Statistical Process Control (SPC) Study Plan format in Excel sheet
Statistical Process Control (SPC) Study Plan stand for, Description, Process Download
Statistical Process Control (SPC) Study Plan Sample, Example, Template Download
—————————————- Download —————————————-
Related Topics: