Tool change process
Tool change process is conducted to maintain machine operation for producing materials at production lines.
In the manufacturing processes to maintain continuity of all the machine and equipment operations needs to frequently monitoring on the machine and equipment and regular tasks required like loading / unloading materials, verify the operation required parameters and tool change as per product needs. The tool change process is part of the manufacturing processes that needs to conduct and maintained its records as per standard system. The process is maintained under the production regular tasks where machine operators are manage and handle the tasks as product dimensional requirements, technical requirements from customers. The purpose of the establishment of this procedure is to change of tool at machine as requirements of production and monitoring and analysis on each change.
The procedure is established by production manager, and responsible for monitoring on each activities of production where tool change processes should be monitored and implement the setup time to maximize productivity of production lines. The tool change process is conducted by machine operators, and responsible for each product requirements for tool specific, hence the machine operator should trained for tool change, product requirements and machine operations. Production manager is monitoring each event of tool change, and conducted analysis to prepared and implement too change records for the verify the situation of production to easier for implement and controls over the processes handled in production lines like the production manger analysis the each tool proceeded quantity and total time taken for used in production lines and accordingly the tools records and utilization are handle for maximum used at each change. The records managed by production manager is tool change record, see picture below for education purpose: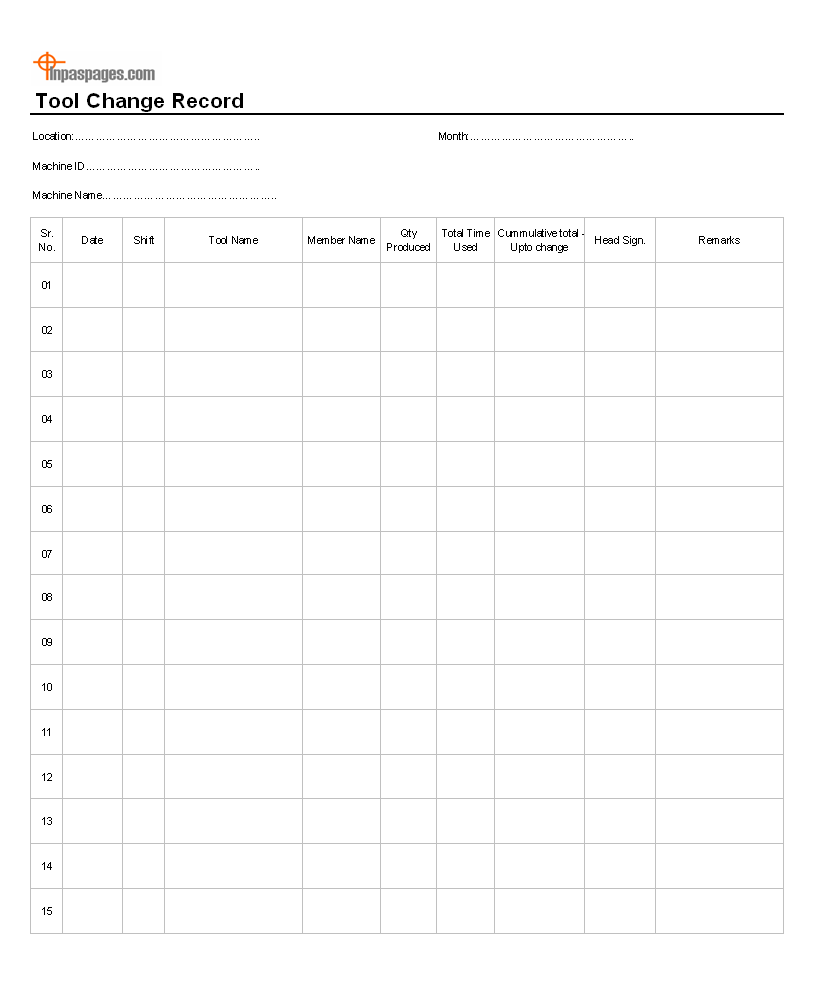 Tool change record format is use in production department; production manager is responsible monitoring & control over activities, defined control measures, analysis and implementation of procedure to maximize tool utilization, reduction in time of change process to provide guidelines, instructions and training to concern operators in line with requirements. Tool change record format is managed at production lines, and storage and disposal is maintained as per standard documentation system.
——————————————————————
Download format in word document | Excel Sheet | PDF format
——————————————————————