Vendor records & analysis
Vendor records and analysis is conducted for evaluation of each vendor for incoming materials quality and comply end application requirements.
Collection of vendor records and documents for analysis are conducted on base of the information from vendor and purchasing materials, for incoming materials quality and compliance of end application requirements are managed to conducting in beginning of purchasing, when incoming materials are managed with quality that end application will be maintain quality. The documents of vendor concern are maintained in procurement department to managing of vendor information and evaluate the product quality, services, timely delivery, type of vendor and on base of the previous services and communications are vendor is listed for approvals as evaluation results are raised. The evaluation is conducted for each vendor, in case any vendor's evaluation ranking / grade is lower than qualification that for any internal requirements are manage for ordering and processing for top grade vendor, the vendor listing and evaluation is helps to procurement processes for purchasing materials and managed vendor as per grade assigned.
Vendor records and analysis documents are conducted by purchase department, and purchase manager is responsible to collecting of vendor information, record all the collection and analysis as per requirements of standards. The purpose of establishment of documentation of vendor is to identify best quality, services, delivery and finest vendor for particular product which is frequently needs in manufacturing processes or the material / product is used as raw materials, hence the product should be high quality level to compliance of end application requirements or producing final product with zero raw material defects during manufacturing processes. See picture below is given example format of vendor list used for listing vendor information, below format provided for education purpose: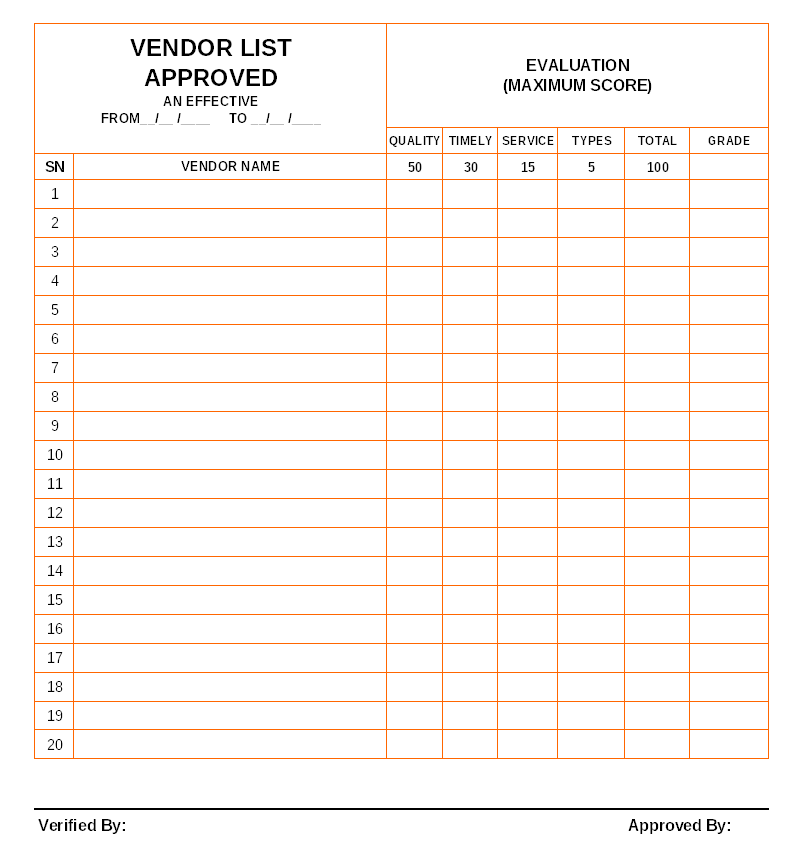 Purchase department is handling approved vendor list and all the procurement processes are conducted on base of approved vendor list, higher grade vendor get first inquiries and orders which is selected according to vendor evaluation. In case of the higher vendor is disabling to provide materials that second higher get the order this is the system of vendor evaluation and procurement process. the document / vendor approval list is maintained and update timely or as per frequency defined by management / standard requirements, generally annual vendor approval list is updated and same the remain process is conducted. The document is storage and accessing by purchase department and concern peoples only.
————————————————————————
Download Format in word document | Excel Sheet | PDF format
————————————————————————