Work Analysis Sheet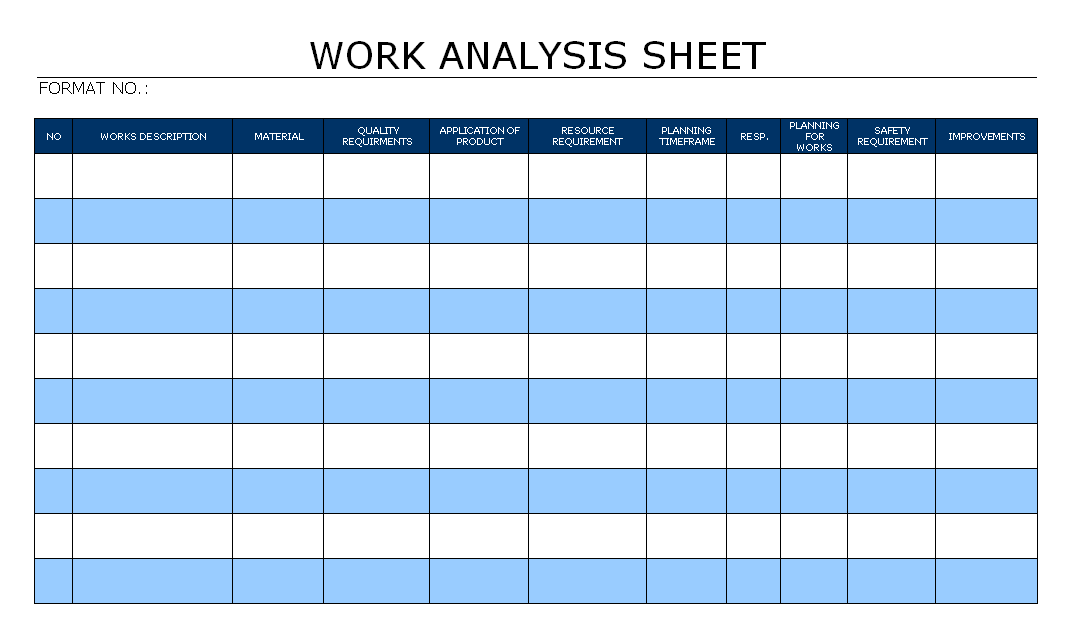 Works Description – for the analysis information of works and concern important points should needs mention.

Material – Information of Material that used in the works is useful for works, this material is used in manufacturing process that complete information is very important

Quality Requirements – Requirements of quality that can be categories as per internal understanding, customer requirements are also impacts on the quality requirement.

Application of product – During the works analysis, Application of product is very important that this product is used and install at the application and its requirements should be need to mentioned, for the capture the actual work analysis is depends on the application requirements.

Resource Requirements – for the complete the work task i.e. manufacturing product what resources are used, in process and externally, both are need to incorporate to actual requirements can raised.

Planning Time frame – planning of the works are starting and ending is very important, works are goes in directions are understand through work analysis.

Responsibility – For particular work task, who is the responsible person that name of the person is required in here.

Planning for works – As per planning, what works task is generated as the planning on time frame, the works is done as per scheduled, work analysis is understand the gap of the planning v/s actual.

Safety Requirements – requirements for particular works task what safety precautions, safety equipments and instruction note for the safety during the working or completion of the task are required, information of the safety requirements are need to mentioned.

Improvement – Notice of the improvement in the works are done through work analysis sheet, all the improvement in particular works task are noted separately to understand what parameters are maintained, for the others can also apply for its works task improvements.
EXAMPLES, SAMPLES & FORMATS
You would also like to read: