Work order deviation report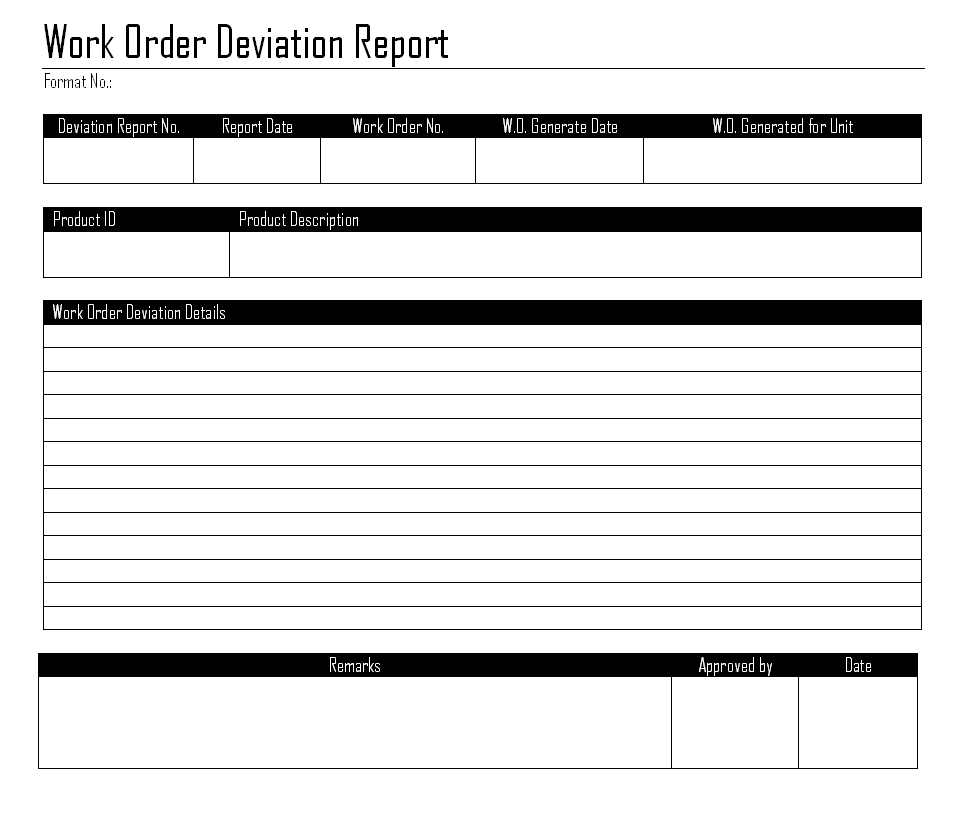 Work order is the structured format that use for the recording information, planning of production as per customer purchase order, generally companies when received purchase order from the customer, those purchase's all details are not possible to release in production department for the data security, hence work order is needs to prepared as per requirement of customer purchase order. In the work order mostly following details are needs to release for the production works:
Product Details for the manufacturing

Quantity requirements

Delivery date

Product step target date

Packing Details

Technical specifications
In the work order above information is general, mostly companies are generate work order as per above information, in case some extra information are needs to mention that may also merged in the records but mostly rates and customer names like sensitive information is not required for production, all the production works are done as per work order number and its details. Those sales orders number are important for dispatch department, dispatch department is consider work order number with customer purchase order for the dispatch material, but mostly some few department can get the all information of customer concern.
Some time in the production or from the customer needs to changes made as per its application requirements hence the deviation can be raised that needs to handle as per following format given for the example:
Deviation report number and report date

Work order number and date of generated

Work order generated for any specifically unit

Product identification number

Full Description of product

Work order deviation Details

Remarks by approval person
Work order is also called job order or job card which having all concern information for producing material hence this is very important document for the production line as well as manufacturing unit.
EXAMPLES, SAMPLES & FORMATS
You would also like to read: