Work order Amendment Format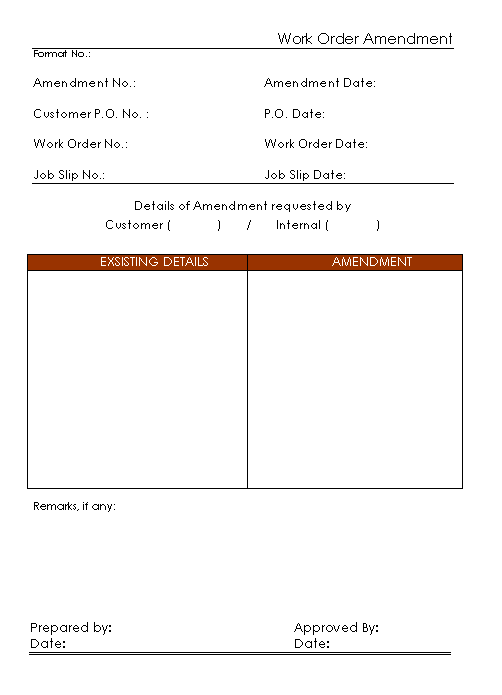 It is the amendment process are happen on request of customer or internal people to modify the work instruction or order to divert / cancel or any other modification in work order or sales order. When any customer requirements are changes, customer requirement are enhance in same purchaser order or any OEM ( Over all equipment manufacturer ) requirements are changed that customer are request to supplier for the change its production that is process / product quantity, specifications or process requirements against it purchase order to comply the requirements of applications.
Work order amendment is quick process to need response, reason that in case of the production line produce material as per purchase order given by customer that all the material should be losses or bear from any single party that is customer or supplier which had not quick action not taken, this process are need to response very quickly to hold the material process on stage  and same will be forward to customer for the material status to further communication, this requirement is very important for the both parties.
In the work order amendment format, work order details which is going to update should be clean, what amendment are given for the process , who had given the amendment to concern production / process and what should be next requirement are all the details should be clearly mentioned in amendment format.
———————————- Download ———————————-
Download Work order Amendment Format in word Document
Work order Amendment example download
Work order Amendment samples download
Work order Amendment definition
Work order Amendment template download
———————————- Download ———————————-