Job order Audit checklist
How customer requirements are determine and communicate? Is there customer specific requirement (CSR) is available?

All the requirements and communications are documented?

Documentations, process information how used? Who used?

Is there any requirements are not explained by customer, but it is necessary that these requirements importances are explained against customer? Is it proceeding? If the proceeded, customer agreed for it?

Are there all the customer requirements are reviewed? Who is review CSR?

Are there records demonstrating that the required reviews are being conducted for every order?

Is the any job having a regulatory requirements are attached? Compliance report is prepared by job order team? How the compliance will be affect the product? If not what is the reason for the regulatory requirements?

Check a sample of orders to verify that procedures / work instructions / standard operating system and training are being tracked. Interview employees and review customer complaints to find out, whether there is history of order requirements that were misunderstood and/or incomplete.

Is it permissible to take and accept verbal / telephonic orders? If so, are these orders confirmed? How such orders are confirmed?

In case of the job order amendment? What is the change orders process? Is the instruction / work instructions are available? Peoples are follows? How system for amending documents?

What is communication system for the job order change and information passing system to production department / quality or other concern department?

Review a sample of change orders to verify that procedures, instructions and/or training are being followed. See if you can uncover any past problems caused by mishandling of change orders.

Are processes for communicating with customers adequately defined, to include policies, assignment of authorities and responsibilities, and methods?

Are these processes consistently implemented?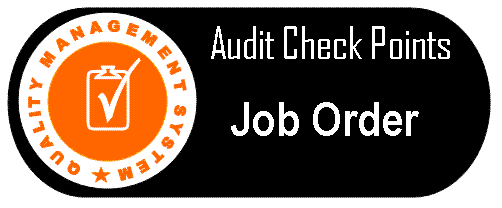 RELATED TOPIC: