Workshop parts requisition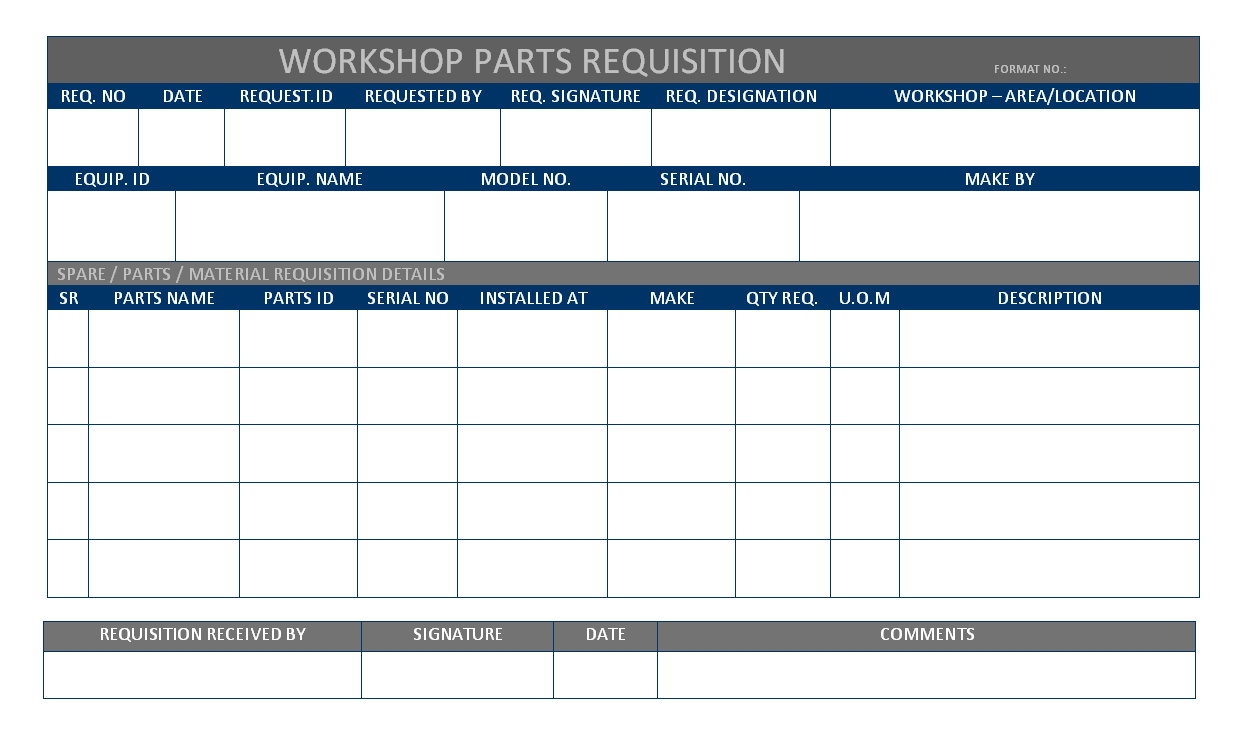 Requisition number – requisition number should be unique for tracking and used internally by specific number

Date of Requisition issued

Requester ID – each employee has a unique identification number, here after requester identification is very important.

Requested by & signature – name of the person who request sent for the parts of equipment and signature.

Requester Designation – Post or duties are assigned to person that needs to mention here.

Workshop – Area / Location – Requester person, on which part, location, area or workshop unique number to easier for identify that request is raised from which location of workshop.

Equipment ID – Unique Number of equipment and Name of the equipment that need to spare / parts required.

Model Number / Serial Number and make – Model Number and serial number is located at equipment with iron plate or by the metal writing on equipment, there are also details of the manufacturer name and details of manufacturing too.

Spare / Parts / material requisition Details – All the details are required to easier for identify material requirements.
–         Parts Name & Parts ID – Name of the parts and it's identification number is very important to tracking or replacement or warranty details can find out by procurement department, in case of not in warranty / guarantee, specific details can get from it.
–         Serial number – each part having a serial number need to mentioned.
–         Make of the parts / material
–         Quantity and U.O.M – Requirements of Quantity of the Spare / Parts and also need to mention its Unit of measurement.
–         Description – All the concern information.
Sign off and comments.
EXAMPLES, SAMPLES & FORMATS
You would also like to read:
WORKSHOP TOOLS MATERIAL SAFETY AUDIT
WORKSHOP SAFETY INSPECTION PLAN
RE-ORDER LEVEL FOR CRITICAL SPARES PARTS
MAINTENANCE CHECKLIST OF MACHINE'S PARTS
LIST OF CRITICAL SPARE PARTS FORMAT