Training effectiveness evaluation report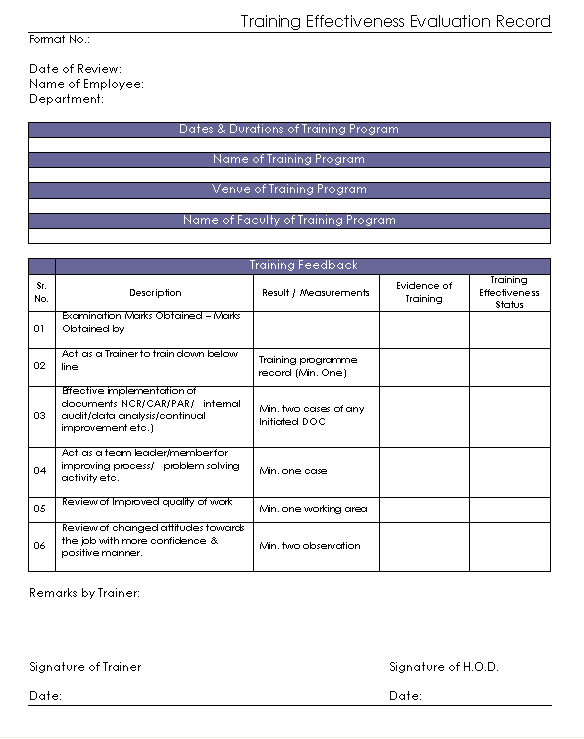 The format as you can see above is form checking of effectiveness evaluation form of individual person wise, which faculty checks the training effectiveness of trainee individually, on base of effectiveness evaluation can identify the further trainings are need to individual person. This is also result format for the trainee had taken training during time period & same for the faculty had given training on base of the defined requirement of training.
Training effectiveness evaluation format is used in basic training of the internal quality management system as well as any others training like a on job training for new machine or equipment with latest technology are installed in plan, trainings subjects are currently understand by trainee are very important and same will be output should be show up during the test of training. The training effectiveness evaluation is the result & also checks which person individually or group having still confusion to concern subjects, for the identify the weak sides of trainee had re training schedules are arrange in line with previous subject training.
Above as picture you can see is given examples of training effectiveness evaluation for the quality management system concern, but you can edit, remove question as your requirements of training like machine manual training, work instruction training, induction trainings or any subjective training which effectiveness checking are need to for the further required trainings.
————————————— Download Format —————————- 
Download Training effectiveness evaluation record format in excel sheet
Training effectiveness evaluation record in Excel Sheet / PDF Format / Word Document / JPEG format
Training effectiveness evaluation record examples download
Training effectiveness evaluation record samples download
Training effectiveness evaluation record template downloads
————————————— Download Format —————————–
 Related Topics: