A corrective action request (CAR) is formal notification usually sent to supplier for requesting to take the corrective actions against nonconformity identify with any product or process. Normally CAR can be official form to fill out to identify, verify and potential actions details are incorporate.
Overview
Corrective action request documents are prepare, maintain by concern department. It may update are manage on completion of corrective actions by concern authority. The process of corrective action is establish by department user to raise application against the trouble, mistake or any issue raise during processes at workplaces. Its application are prepare & forward to concern authority for necessary actions against request.
The corrective action request is apply by department supervisor or department head on any issue identify with product, process or any other mechanical or electrical issues. The corrective action request can also send for documentation correction. But generally major physical issues that concern with product, process or machine / equipment concern issues are facing by production lines.
CAR preparation
That the issues are identify & its corrective action request are needs to send concern department for appropriate action against it. The corrective action request documents are manage for the month of annual. That consider as register of corrective action request that manage for verify records of each request given. To concern department and its follow up.
As per corrective action request, concern department communicate with concern authority, process owner, operators and general information. The collect information are use for identify solution against issue raise at workplace. Its root causes are identify by request receiver authority to close the issue raise.
Nonconformity verify and documentation
Corrective action request documents are manage by department head who had given request for corrective action request to other departments. To performing corrective tasks for particular issue raise during manufacturing or sustaining processes to producing materials, inspection or other tasks.
The process is handle by request receiver on as request description. The process manage and corrective action implementation are done that all concern documents are update. Hence corrective action request log format is also update by requester department head. The document maintain for managing records is CAR log. See picture below given as example format & education purpose: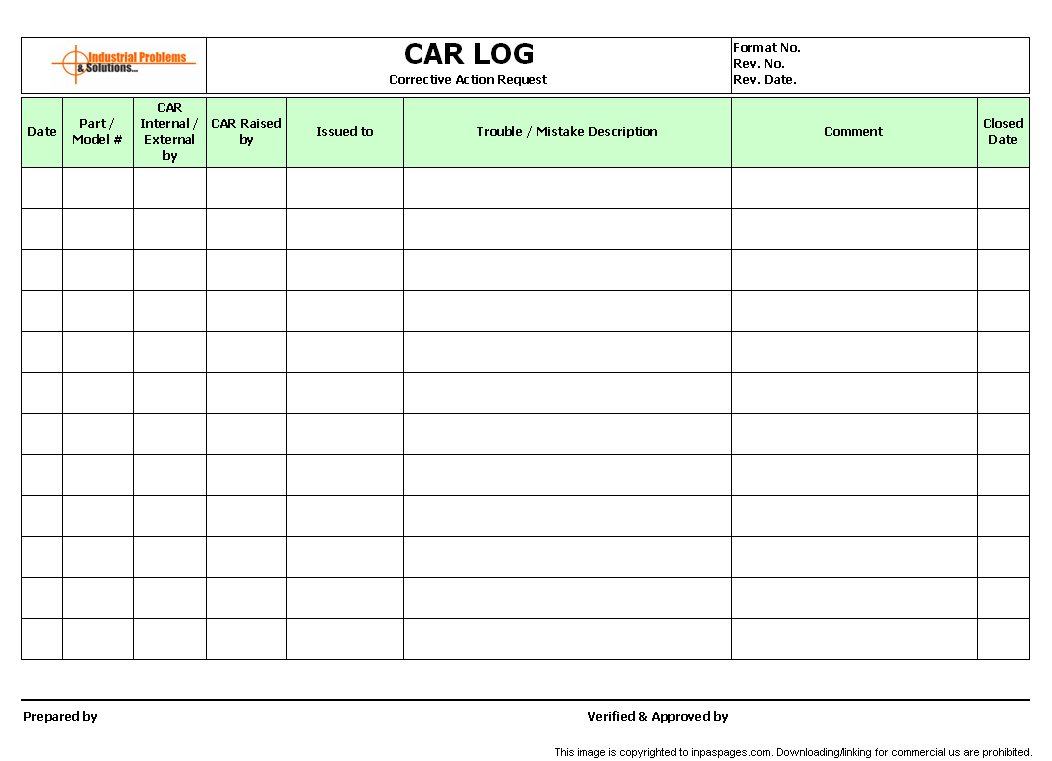 CAR Log Template
The CAR log or Corrective action request log is format use for recording information of each request send to concern department by requester department. The records are maintain by requester department head, and responsible for follow up and communicate with request receiver department. To short out issue raise with product, process or any mechanical or electrical issue in workplace. The records are maintain & use for follow up as well as use to analysis breakdowns, issue shorting and identification of root causes of issues. That generally occur and repeating in manufacturing facility. The CAR Log is cover general information about issues, receiver and description of issues with close of issue comment. The documents are maintain and storage by requester department and its dispose process conduct as per documentation system.
—————————————————————————-
Download format in word document | Excel Sheet | PDF format
—————————————————————————-