Doc Audit Plan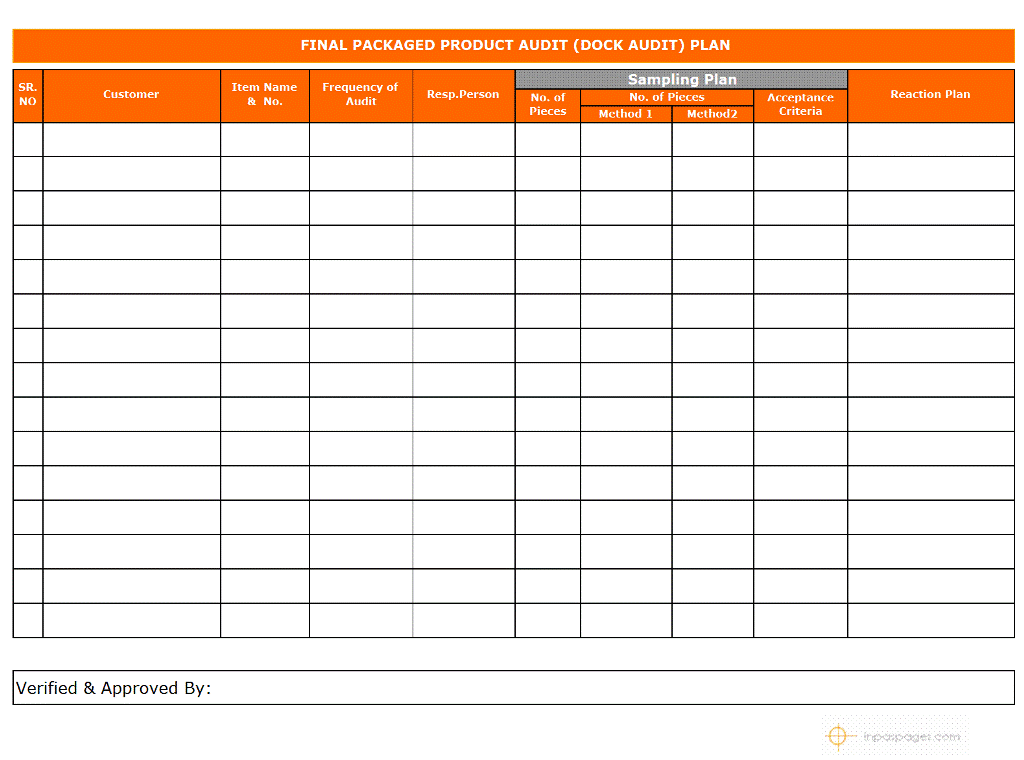 Final Packaged product Audit Plan – FPPA Plan
As we discussed on previous article for the final packaged product audit checklist that cover the requirement of audit and its parameters that need to check during audit of FPPA. All the requirements of the Final packaged product audit need to plan in this sheet to tackle the audit in line with requirements of QMS and RED BOOK.
Final Packaged Product Audit need to randomly checking on various method that you can find in ready made format are mentioned as Method 1 and Method 2 that is can be visual or any other method to check out the sampling process, there are so many methods are used as per requirements of product and its packing material fundamentals.
Each customers having a various types of product that doc audit required for the each customer's each sample, in case of same lot are checked for audit plant as sampling taken during audit. Audit frequency should be most important in case of various sizes material as output are shown, if the machine parameter are need to changed for the product sizes or any other reason that each lots starting sample are important for the auditing, here we are talking about the audit that concern we not required for any sample parameters, auditor just take the sample from the any lot or any customer to check for sampling plan but in the plan should be cover the customer and its product that pre defined as final packaged product audit plan.
In case of any variation found that need to re-action plan as return for the corrective action and preventive impact action for remain all. For your better understanding you can download sample document audit plan that also called final packaged product audit plan to helpful for the people who are concerning engineering product.
————————————-x————————————-
Download Final packaged product Audit Plan format in excel sheet
Download FPPA Plan in excel sheet
Download Final packaged product audit plan – FPPA Audit plan
Doc Audit plan in excel format
————————————-x————————————-
Related Topic: