Employee annual leave document
Employee annual leave document is prepared for recording employee annual leave and its balance for individual records of tracking and managing leaves.
Employee annual leave document is prepared for managing employee individual leaves where conducted leave by annual basics and against the used of leave monthly are deducted from balance, the leave are managed annual base and its balance maintained by human resources department individual, the records are helps to tracking the records and managing leave for employee on any absent are occurred during the month. The human resources department is conducting employee concern details where employee individual leave records are maintained and update as per employee absent or leave concern movement are occurred. The standards system for the human resources and practices to maintained employee concern records, the management are provides the annually leave packages as per government rules, and on extra duties of individual employee during the years are managed and deducted on employee absent during the year. This is the simple system for managing leave of each employee.
Employee annual leave document is prepared, maintained and update by human resources department, human resources manager is responsible for managing all procedures concern human resources, verification of records and concern document of employee, and also for appoint person for conducting employee annual leave document and monitoring and controls over activities, the documentation are verify and approved by human resources manager as per frequency defined, generally monthly document verification are conducted. Human resources executive are prepared employee annual leave documents, see picture below given as example of annual leave record for education purpose: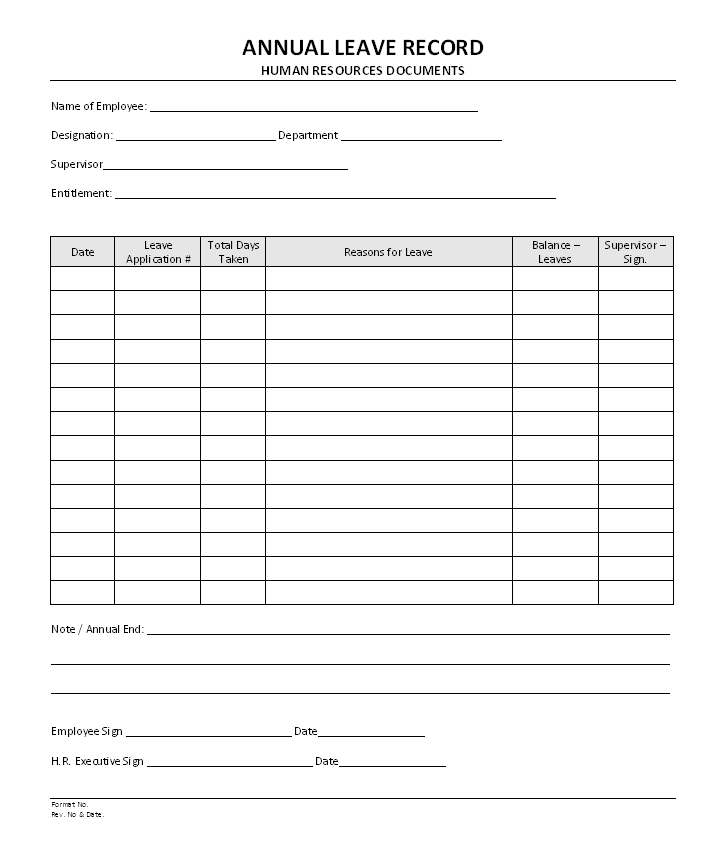 Annual leave record format is used to recording and managing leaves of individual records of employee, this format is prepared by human resources and also maintaining, update as per requirements. The details of the records are very important for the human resources department that used to managing leaves of employee on absent / leave during the year.
————————————————————————————-
Download format in word document | Excel Sheet | PDF format
————————————————————————————-