Delivery Deviation report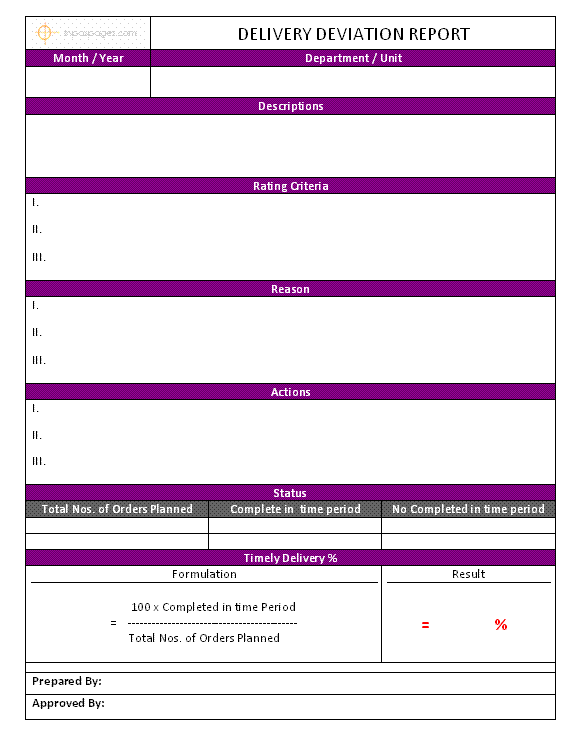 Delivery deviation is a real status of deliver material to customer against orders in percentage to identify real cause of delivery deviation & actions for the reduce deviation in delivery against planned at time order booking.
in above picture you can see result column is for delivery % as result against total booked order & planned delivery against total completed order on time period that combination result will be mentioned in % as formulation given, this delivery % need to increase for the reduce delivery deviation. For the reduction of delivery deviation require to identify root cause, define action & take the action of reasons to affect delivery to achieve respective delivery in % format with achieve ultimate goal is customer satisfactions.
For find the deviation having required define some rating criteria to read real cases, could affect physical situation
Example:
–        Export job order delay for 02 days than plan date consider is in line with planed date, due to some legal & regulatory reasons.
In above cases rating criteria very important, which is some possibility of deviation due to legal & regulatory requirements can reflect. Those kinds of rating criteria we can define for focus on real action that deviations are increased.
Which major factors of delivery deviations?
Leak of Planning:  Planning can be major factor of delay in delivery that material against machines against men power management are depends on planning.
Internal / External Communications: Communications with customer requirements of deliveries.  Communications with transports for arrangements. Internal communications of two department of material movements or urgency. Delay to communicate with third party inspection etc…
Material Availability: Packing materials, Special Materials for packaging, inspection & testing chemicals, materials or equipment.  Special Tooling / consumable material (BOM) non availability etc…
Breakdowns: Machine breakdowns, electrical power cut off, Consumable goods non availability for maintenance or machines. Leak in preventive maintenance as per schedules.
Others: unidentified reasons.
Etc…
All above reasons are general reason of delivery deviations but its all indicates bad practice of business or unawareness of management, it's all easier to eliminate through minor changes by management efforts. There are only single reason is sufficient reason should be affect for delivery deviations, but there are also provisions for not affects delivery date if the proper planning  that best practice help to estimation of delivery schedules.
This is very critical requirements for the management to walk up if expect last points of factors are still comes for delivery deviations. For ready reference you can download format for delivery deviation as below links:
 Downloads
Download Delivery deviation report format in word Document format
Delivery deviation report example, Template, Sample, Formats
Related Points: