Environment Health & Safety General inspection points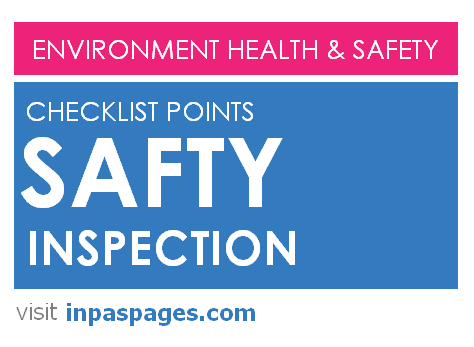 Environment health & safety notice board is updated?

Incident / accident report's format copy available?

Emergency exit ways are free from materials? 

Each chemicals / hazardous categorized material having M.S.D.S?

Is there Environment health and safety policy is deployed?

Whether emergency evacuation plan is available?

Environment health & safety records are deployed at notice board?

Safety sign boards / posters / warning / cautions and instructions are deployed?

Check there are first aid boxes having optimized stock? & all the concern people phone numbers are available with it?

Fire extinguishers are deployed? Fire extinguishers selection list is available?

Material storage is properly? Well organized? Optimum Quantity defined?

Ensure that gangways are net and clean there no any unwanted materials are available?

All department gangways should be cleans and yellow boards / identification line should be visible in night

All gas cylinders are properly storage? Each storage area should be properly identification numbers and labeled?

Check whether waters or raining water not in touch with electrical panels.

Check is there loose wire or open connection of electric?

Machine or equipment's main switch should be easily accessible.

Each fire extinguishers are deployed properly, properly tagged and easily accessible at time of emergency

Check whether plugs are used by peoples are working at plan for noise?

Is there boxes are deployed for the waste is generated from various processes? All waste boxes are separate as types of wastage?

Each cranes having a testing certificate?

Is there equipment is calibrated /tested? Certificates are available?

Whether crane is not in used, check the crane's hook taken safely at above than ten foots.

Personal protective equipment are in used at each department? 

Pipe lines, crane, equipments, instruments, devices, movement equipments are colored?

Peoples are aware of environment health and safety concern?

Waste Scrap yard is properly maintained?

Exit signs boards available on door of exits?

Department wise emergency lights are installed?

is the floor is slippery, applicable for each department

Each rotate equipment, wheels etc.. Should be proper covered guards are available?

Where welding works going on – is there warning board must be deployed, is there available?

Whether works of maintenance is on going, warning boards should be there with work on progress with local language and English is there deployed?