Design project plan
In some industry, design is basic requirement and part of the production like automobile industry, where heavy equipment to small handy equipments are manufacturing that need to design for to minimize cost & effective used to end users. Design is very important part of the assembly points for automobile industry as same heavy machine manufacturing units having a design team that design the various equipment design as primary step to create any equipment / machinery of automotive equipment, its real engineering that we say is design.
For the designing of the equipment / machine or any engineering product that required planning, those interaction & sequence called project and its planning are design project plan to establishment of any engineering product, these project planning records are used for the step out each unique information to engage next level of project, some fields that are used in report as below:
Project name
Project manager name
New design / Design change – this design project plan for which kind of the project that is new design or its change in design change, those information are collect in this report
product, part, model – when the designing project is for heavy equipment that some basic parts are need to design to assemble each part for individual design planning required.
Project Schedules  & its step by step information:
–        Design inputs
–        Preliminary design
–        Calculations & Analysis
–        Drawing & Specifications
–        Design Verification
–        Design validation
–        Design review
–        Approved final design
This above information is basic requirement that can be used by any engineering products, all the information are very important and unique for any project are running for the assembly of heavy equipment / machinery or engineering part.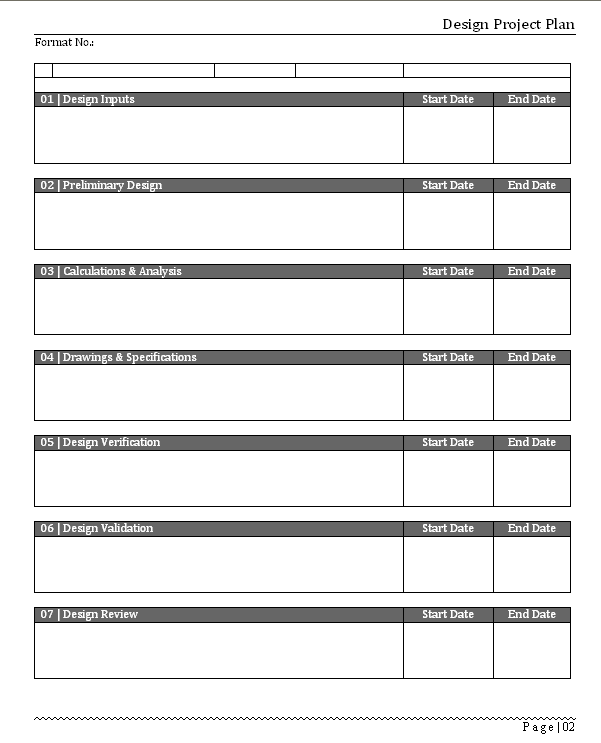 EXAMPLES, SAMPLES & FORMATS
You would also like to read: