Food waste documents
Food waste documents describe management information of waste generates during food processing & other stages of processes.
Food waste documents is established to managing information of food waste management, foods that generate during various processes at food processing units, and stages where other supporting activities are conducted like quality of foods, packaging and dispatching processes having a food waste during inspection or other processes are maintained information in documents and those documents are maintained according to food security management system. Food waste documents are managed for organize waste management at each place of department & workplaces where food waste is generating and the system is maintained its concern activity and communicate with department for collection of food waste, the system is maintained for effective management of food waste at each areas of workplace. The food waste are conducted and managed as per type of waste can be in form of either liquid or solid that according to waste, food waste storage in-charge is conducted the inventory and storage accordingly, for better transitions & disposal as government laws & international standards system references.
Food waste documentation are prepared by food waste storage department, storage in-charge is responsible for managing activity concern food waste, collection of food waste generating at various department are managed, and its concern documentation are prepared for manage and disposal of food waste inventory at storage areas, Food waste in-charge is managing waste as type of waste of foods when waste generation acknowledge slip received from processing departments and same the collection process conducted. The documentation of managing food waste inventory, food waste storage in-charge prepared food waste register, see picture below given as example format for education purpose: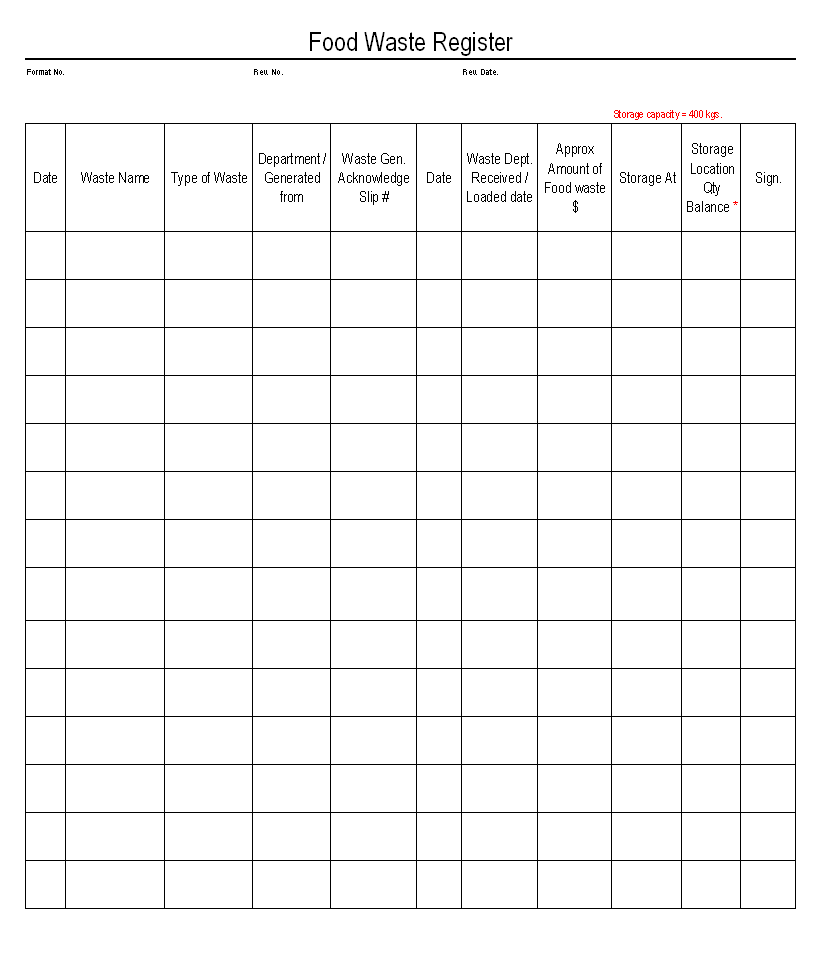 Food waste register format is used for recording information of food waste are inputs from various department and areas where food waste generates during various processes of processing foods, the register is conducting information of foods waste as per food category or type and department where generated along with reference of acknowledgement. The documentation is prepared by food waste department hence the documentation reviews and verification is conducted by management representative for improvement of food waste management and system.
——————————————————————————
Download format in word document | Excel Sheet | PDF format
——————————————————————————