Lifting anchor testing process and documentation
Lifting anchor testing process is conducted to ensure the lifting anchor is able to loads during the various processes of manufacturing and as per standards.
Lifting anchor testing process is established and conducted to ensure the each lifting anchor are deployed in various manufacturing processes are able to load the materials during processes and verify the its maintained standard requirements. In any manufacturing processes, lifting the materials, machinery, equipment and other supporting items are conducted by lifts that should be properly verified, tested to avoid any incident and also verification for each part which is used in lifting the material is able to lifting as per standard of appropriate items. Lifting anchor testing procedure is conducted by qualified inspector, and the lifting anchor and other testing is also government requirements for safety of working employee at around workplaces.
The purpose of lifting anchor testing procedure is to managing all lifting equipment and its parts for inspecting for its capacity, ability as per standard requirements and load capacity for identify maximum capacity of each part of lifting equipment, lifting anchor testing is part of lifting equipment testing but the lifting anchor test is conducted separately because is it important part for lifting the materials can cause heavy accident / incident within workplace. The process is conduced by qualified safety office, inspectors at each department and units as per frequency defined by management and standard required. Lifting anchor testing procedure and its concern activities properly conduct and its improvement responsibility of equipment manager should conduct and managed for improvement of system of equipment to increase reliability and well organized. The document which is used in testing for lifting anchor is prepared by safety officers for qualified inspection team to manage all concern lifting equipment and its parts, here as below given example format for lifting anchor testing sheet for education purpose: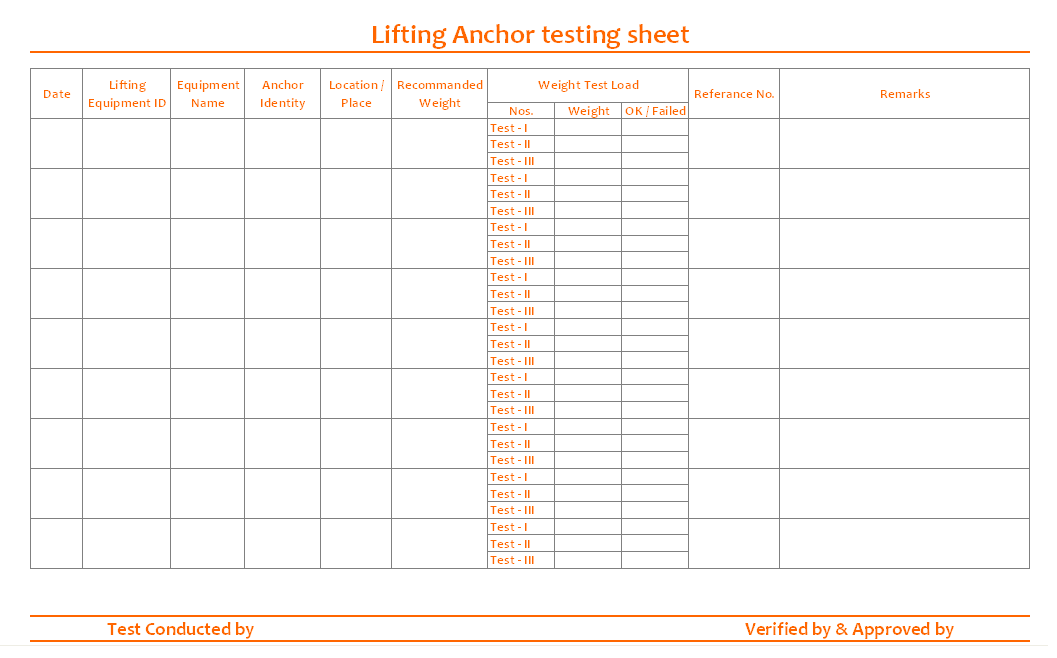 Lifting anchor testing sheet is document for inspecting lifting anchor testing and during the processes, inspector is conducted and filled information which is collected during inspection, load tests. The document help to maintained lifting equipment wise lifting anchor testing records separately, here as above picture you can see is given for three test per lifting anchor to avoid mistake to verify maximum loading capacity of each anchor. On completion of lifting anchor testing, the document is submitted to safety officer and one copy to department manager for acknowledge of lifting anchor conditions, in case unacceptable identified that department manager contact to concern person and immediate actions are conducted.
———————————————————————
Download format in word document | Excel Sheet | PDF format
———————————————————————