Load testing documentation for equipment
The document is established & updates to ensure the equipment able to conduct load as capacity of equipment as per equipment standards.
Load testing documentation for equipment is describe details of the testing conducted for particular equipment testing, conducted tests, loading capacity and requirement of the further actions are mentioned in load testing documentation for equipment. In the manufacturing processes various equipment are used for the supporting of the processes to producing the materials, each equipment should be properly checked to comply requirement of standards, generally in manufacturing, engineering company or any heavy materials, heavy equipment manufacturing company should required to moving materials, machinery or any other things by the moving and lifting equipment, so its very important that each lifting and moving equipment are properly inspected and tested periodically to ensure the equipment which are used in the manufacturing or any other moving and lifting activities should be secure and equipment will be complete the task without any trouble, load testing is one of the important part for the lifting and moving equipment which is frequently working in the manufacturing and concern activities.
Load testing for the equipment is conducted by maintenance an engineer who is certified for the conducting the test or third party agency can conduct the test if the third party approved for the conducting test for load and certificate approvals. Load testing is part of the safety system for assurance of equipment checking for capacity to lifting and moving the materials accordingly, engineers are conducting load test as per required standard for equipment, generally six month is respective time for it but its all depend on the equipment, used in activities and other standard requirements. Frequency of load testing is defined by safety office to consider requirement of equipment standards and manual accordingly. The documents for the load testing for equipment are established and maintained by engineers who is witness the testing and approved for works or non conformity raised for repair or compliance, during the load testing procedures following format is conducted by engineers and details are submitted: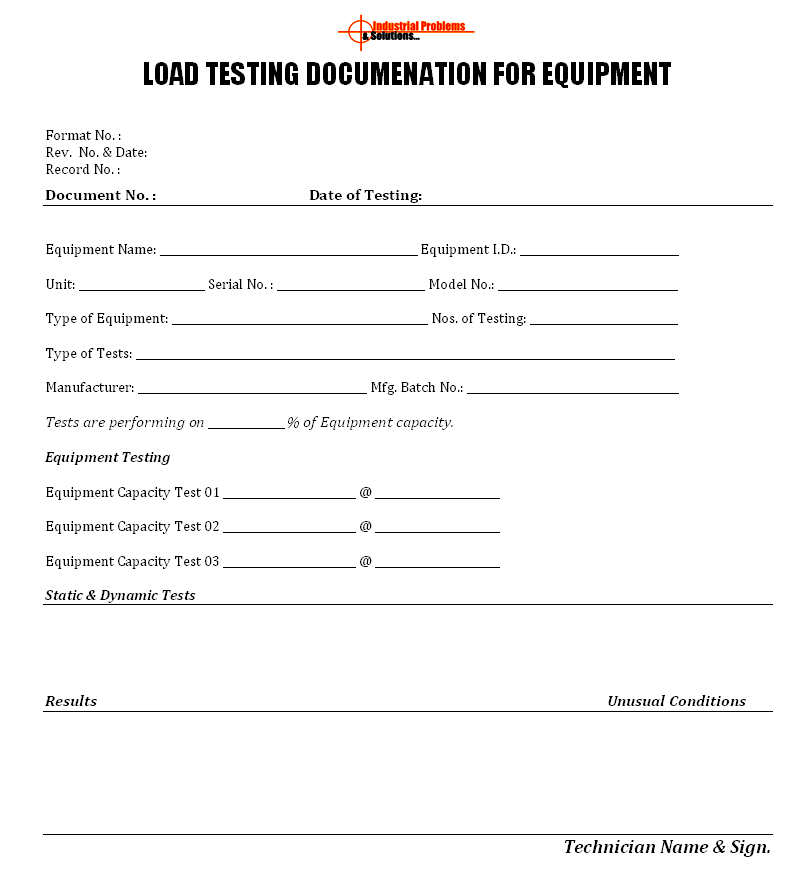 Engineer is complete above format and submits to management or concern department for the further actions, if any non conformity is identified that maintenance and concern department should be stop the equipment in used, load testing is not complete testing of the equipment but its just test of checking of equipment loading ability as per capacity of equipment, in the load testing equipment is tested by various methods with two to three time to ensure the each test and method having a minimum variation & the equipment load capacity and its requirement are as per standard or not. Engineer conducting testing by equipment and that equipment should also calibrate or tested by certified person, its very important to maintain standard requirement and system for assurance.
During load testing process, in case engineer identify any unusual condition of any part of equipment that, engineer is mentioned in the report for further actions and same will be forward to concern department and safety officer for the remove equipment from the working environment for safety purpose & compliance of equipment's part which is identified non conformity.
——————————————————–
Download format in word document | Excel Sheet | PDF format
——————————————————–