Material life register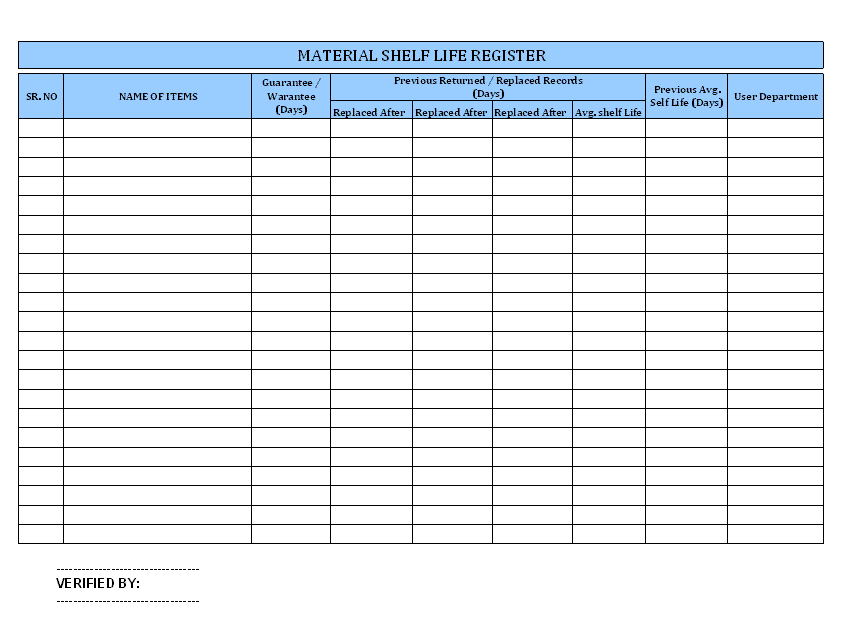 Material life register is very important part of the storage department, some peoples are confused with material life and material shelf life, so let's see what is material shelf life first.
Shelf life is a duration of time of material to started from standard packing to consumption, its not expiry of the material there are huge different between material shelf life and material expiry, shelf is mostly can see for foods, chemical & medicines that after the packing its can be loss shelf life, can also possible the food type material when people eat before shelf life quality of the food can be reduce, yes it is possible. So, shelf life is neither expiry date nor life of material its unique identifiable time period for things.
Hence, material life is material packing to useless or fully consummated that is not can possible reuse in same condition after used, material life is depends on material quality & material use & its use conditions.
In industry people are used the material for machinery frequently requirements are comes to consumable goods storage department among this material required some material is very critical that preventively arrangements are required by consumable goods storage department. Consumable goods department are preparing material life register to identify the at which department and which machine's spare / parts are required on which time identify through material life register.
For the practical understanding, you have to download life register.
Download material life register in excel sheet
Material life register in PDF / Word Document files / Excel sheet format