Material return without authorization process establish to manage material return process by easier and systematic ways.
Overview
Material return without authorization process is needs to establishment to managing each incoming materials that having issues, mistakes or defects etc. That monitor, observe and managing for return to supplier without any authorization as per this system.
To manage and implement for making process easy and distribution of authentication to bottom level once any mismatch found in incoming materials. The management team is deploy the system to manage some tasks by lower authority like incoming material inspection, verification and checking as per documents.
The physical verification, in case the incoming materials having any issue identify that materials are return by concern  peoples like store supervisors, security / gate officer etc. They can manage the tasks at lower level the materials are return without any higher authority signature or intimation.
General Process
The concern officer is recording the information and intimate once the materials are return to supplier. For acknowledgement and follow up return materials to appropriate supplier. Return materials are follow up by procurement department as per records are provide by concern officer to procurement department.
Its concern documentation requirements, follow up & further investigation is conduct. The material return without authorization process is system that help to managing time. As well other processes are manage to conducting, storage and handling the incoming materials.
Define the policy
The short costing are reducing concern incoming materials management. The procurement & return policy team is identify some product or all the incoming materials, and verify returning the materials without authentication are acceptable. And materials verification & testing should be conduct by qualified personnel. Hence needs to proper training to each lower level officer to conduct incoming materials for verification and testing for managing internal system.
Implementation at processes
Material return without authorization process is handle by assign personnel as various level. The system is recommend for provides proper training to appointing particular person instead assign duties for verification. Inspection of each incoming materials to concern peoples that can be security officers, store keeper etc.
They can verify as primary level of inspection and in case the material needs proper quality testing that forwards the materials to department for further testing and inspection process. Other wise the middle personnel are conducting materials, verify and manage for further processes.
The processes are manage remains as normal internal management system. See picture below given as example format of material return without authorization require format that can use in regular process is below. The format provide for education purpose only: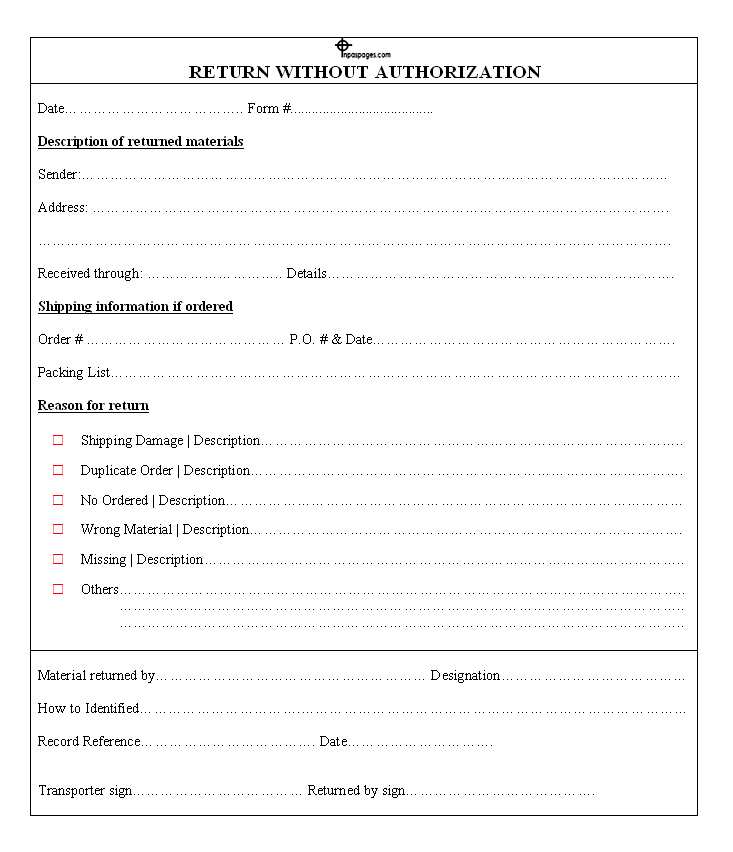 Return without authorization format
The return without authorization format is use to recording the process activities as records. When the concern personnel are identify materials defective, short quantity. Or any other issues that materials return policy supporting to return materials to appropriate supplier without any higher authority acknowledge.
As well permission that the system is help to determine other important management of tasks for concern authority and also supporting the system performing well without any movement. The better time management are held during processes.
The documentation are manage to handling the processes. The concern personnel are filling this format during processes for managing concern records to presenting of evidence against higher authority. When any material return to supplier due to some issues. The documentation is maintain as per standards system.
—————————————————————————-
Download format in word document | Excel Sheet | PDF format
—————————————————————————-