Receiving Inspection Procedure is a systematic process to describe the process of receiving parts, components, spares, or any consumable goods. The inspection process may help to ensure the receiving materials are as per standards.
Overview
Receiving Inspection procedure and its concern process is establishment require for the conducting all incoming materials. It may include parts that use in machinery, equipment and various instruments that use in manufacturing and supporting processes.
The Receiving Inspection procedure is manage for inspection process for the parts that inward against the procurement team had released purchase that the materials are use in facility. The quality inspection team is conducting all incoming parts as the various testing method.
Methods for inspection
That may random sampling system and or whole materials individual parts inspection are conduct. The inspection types are depends on the incoming parts, internal requirements and acceptable policy are affecting inspection system.
Sampling process
The sample quality inspection process is manage on request of procurement team. Once the confirmation are received by quality department. The quality manager is assign duties to quality inspectors to conducting all incoming materials that is parts that purchase for internal use.
The process of quality inspection is very important for manufacturing unit. That will all the machinery, equipment and concern processes are engage with each other. Hence any one process is being disturb that remains all are being delay due to any single process. Receiving Inspection procedure handling & its concern process are manage by quality inspection team, and related documents are also managed accordingly.
Documentation
Receiving Inspection procedure are manage by quality department. The quality manager is responsible for conducting all testing require as per incoming parts standards and international standards requirements for parts. parts receiving inspection documentation, quality inspection team is responsible conducting incoming parts as per procurement order and its documentation are manage. See picture below given as example format of parts receiving inspection report format for education purpose: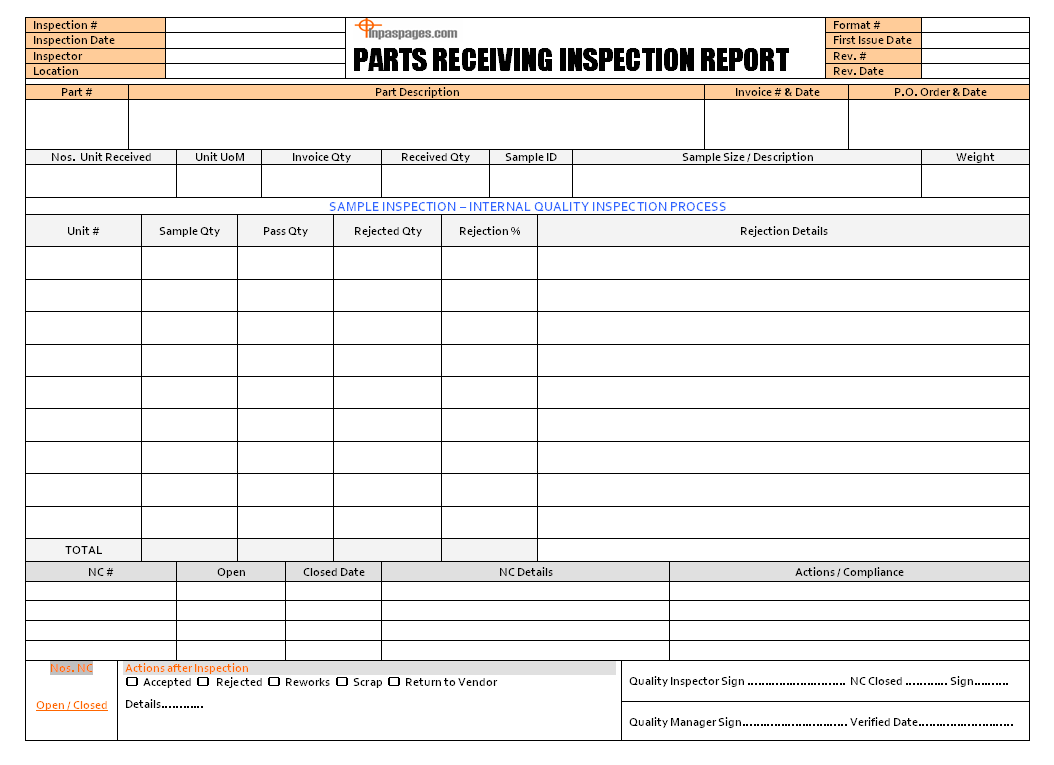 Parts receiving inspection report format
The parts receiving inspection report format manage for conducting incoming parts receiving inspection. To ensure that the product receive from supplier are as per quality requirement for end application requirements. The parts receiving inspection report format manage by quality team.
Quality manager is conducting monitoring on activities as well controls over the processes and documentation. The frequently for he verification and reviews records are handle by quality manager as requirements of standards or as define. The system records are maintain and update as per internal documentation system.
————————————————————————–
Download format in word document | Excel Sheet | PDF format
————————————————————————–