Material stock management & documentation
Material stock management & documentation maintained & update to managing various materials management and accounting stock records.
Material stock management & documentation is established, maintained and update as per period or as per transition raised, the documentation are managed for managing various materials locations, materials concern transitions and accounting each material individual as well group wise stock records for various requirements. Material stock management is conducted by material management and its concern all transitions like and duties are conducted during the material stock management in the warehouses:
Verification of the materials stock periodically or as per frequency defined by management.
Conducting all incoming materials records, receiving materials from outside of warehouses, billing and transitions verifications, recording in registers.
Managing each issues record, issues transition from various departments as per departmental requirements, managing records of issues.
Handling and storage of each incoming materials during the storage management and materials movement requirements.
Maintaining closing records, physically verification of closing materials as per periodically requirements.
Conducting records of each material and randomly verification of the materials to ensure that the stock is maintained properly.
Material stock management and its procedure is established by material management, material manager is responsible for conducting each activities concern materials movement, handling, storage, issues and handling each closing records properly. The records for each transition are conducted, monitoring and improvement of internal management system in material storage are conducted and update accordingly by manager material management. The records for the stored materials are conducted through register, see picture below given for example of stock register for education purpose: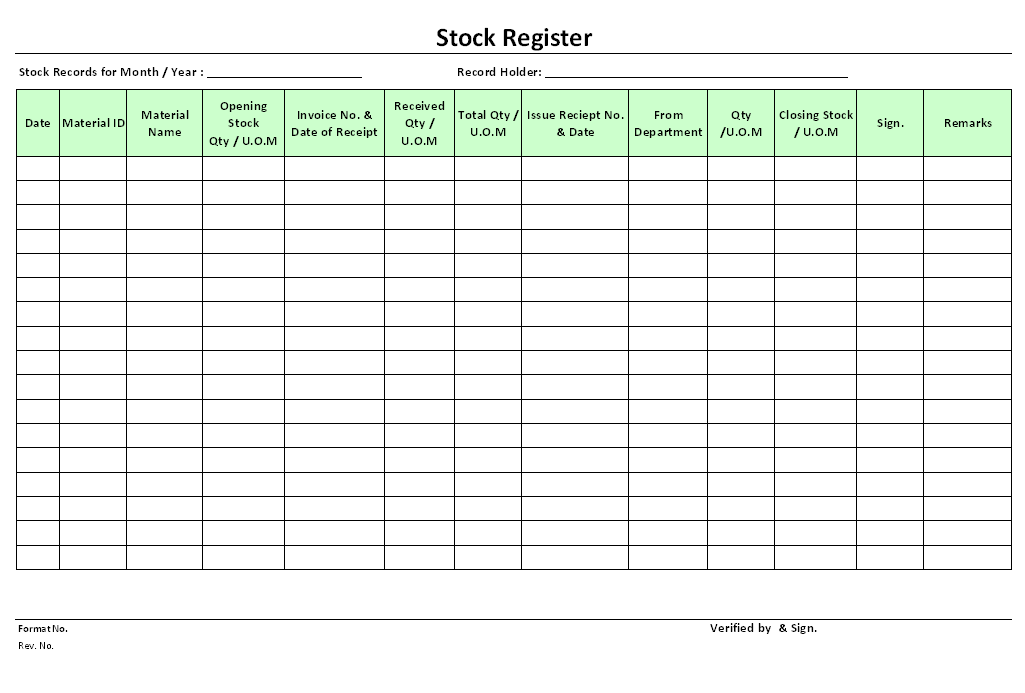 Stock register is document that helps to material stock management system that is managing all the transition concerning material movement, handling and storage concern, the records are managed and indexing as per periodic physical record verification, material issues records and incoming materials are managed in stock register, there also maintained individual material records and stock that are depends on skill of managing records in excel formatting systems. Stock register is important part and document of material management.
——————————————————————————
Download format in word document | Excel Sheet | PDF format
——————————————————————————
Related: