Meeting attendance sheet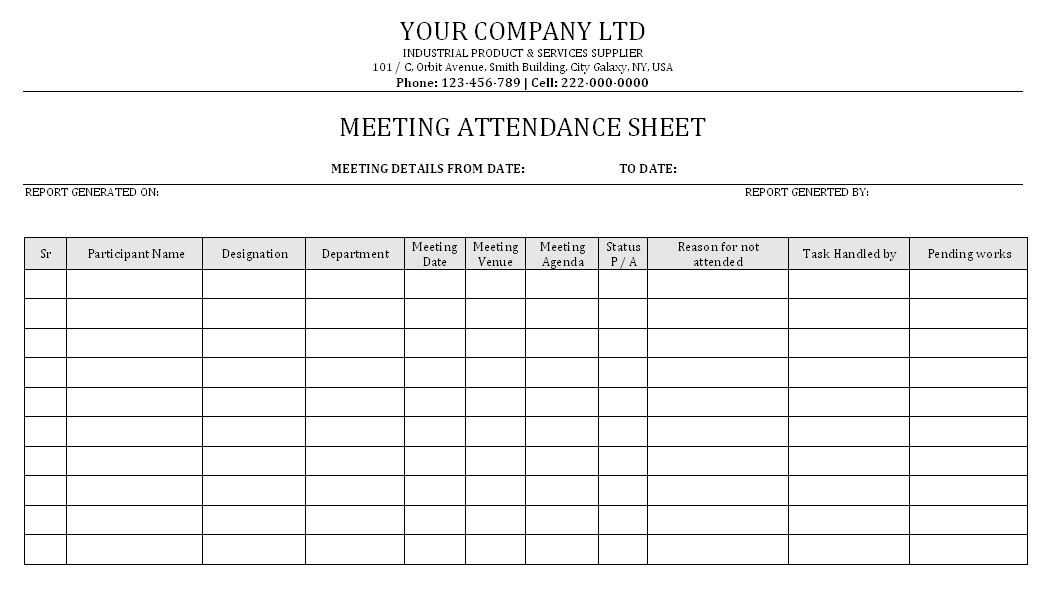 Meeting is peoples are met together for discussion on matter of improvements, issues, new development or concern subject to directly or indirectly affect company growths are detailed discussed, share information, comments and suggestion to make the final best discussion for the management team. Meeting is best ways to communicate with the employees, staff peoples, and team members that seating on table for join discussion on subjects and company's daily issues are possible to solve.
In the company, meeting can be arrange by frequency like daily meeting, weekly meeting, monthly or annual that discussion topics as per frequencies and subjects, but some meeting are on base of the issues, challenges and requirements of systems like safety meetings, committee meetings etc..
In the meeting, all invite members should be conduct the meeting to possible on subjective discussion, dept analysis and record handing to reach to positive decision, in case any member who is important role could play for the raised issues or responsible for issues and its solutions is not present in meeting, there are no any meaning of meeting hence each members are present in meeting on time is very important and importance of meeting can maintain, , here we given example format for meeting attendance sheet for your kind consideration:
Participant / member name – invited for meeting

Designation of member / participant

Member's Department / Place / area belong to

Meeting Date and Meeting venue / place – not required if meeting is held at always single place

Status of Participant – Present / absent

Reason for not attended – if the legit reason that is no issue, but its habit that can reflect on individual growth and implementation as per annual record that is considered by human resource department.

Task handed by on absent of participant, after meeting or on present of participant all the responsibility, discussed matters and issues and solutions responsibilities will be of participant.

Pending works are on date of meeting and before
To consider the serious requirements of meeting & attendances of members, participants meeting attendance records are need to maintain for the regular / irregular members listing and its behavior can effect the company growth and future decisions of management.
EXAMPLES, SAMPLES & FORMATS