Process assessment worksheet Form Format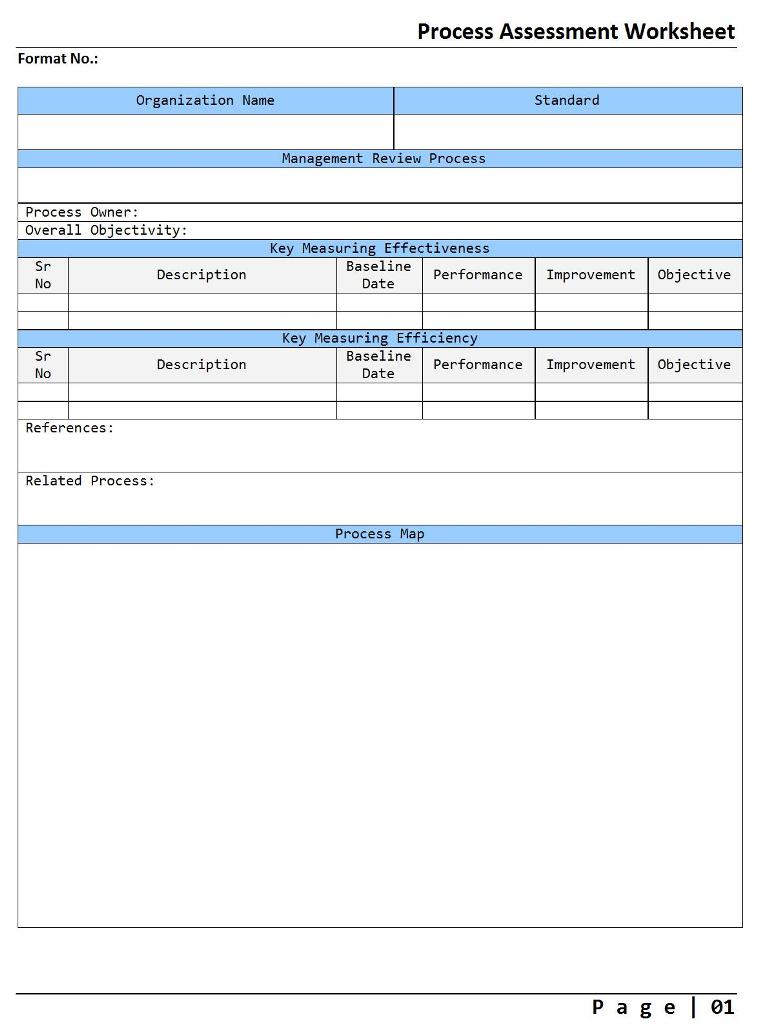 Process assessment is management task that perform by management representative with confidence with management consults. Assessment of Processing procedure requirements are possible to part process assessment or full process map cycle assessment are also can submit by chief executive officer as substitute or management representative. All the process is going to be assessment should be reviewed by management as per requirements of international standards like ISO 9001, ISO / TS 16949 etc…
Process Assessment worksheet needs a some basic required field that cover process requirements, performance, improvement to ensure the process are established, well maintained and improved in line with quality management system. Key measure of effectiveness, key measure of efficiency both are in center of the process assessment as importance of process map.
Key Measure of effectiveness are measured, review In general as well as representative or management review meeting that actions are taken, will be take or actions that taken are effective against baseline performance and objective that defined & same improvement of objectives are in line with base line should be cover the key measure of  effectiveness. In key measure of efficiency as indicates the efficient process, actions that taken by management to controlling for the making a process lean by show up in management review process document, against baseline performance & improvement objective should be cover the requirements  and in line with reductions, chip costing and lean process mapping.
For the all exercises are need to mentioned in process assessment worksheet of process assessment form as reference, in the reference you can describe details of actions like a instructions notes, SOP by reviewed by management and other drafts can be mentioned for the same.
All the related process, standard operating procedures, concern documents should be mentioned and same need to attach in worksheet or form of process assessment. Probably those processes are for machines and working environment obviously it should be need to standard operating that cover the how to operate? Training – awareness, competence of awareness should be mentioned to enhance value of process are well controlled.
Design & developments in short description, major part of the process are depends on design that all the concern process had to depends on design criteria, design team will be defined the whole process mapping for the process steps, map, process stages are concerned to each others and same development team will be structures that dream mapped by design team, off course its real picture can possible through development team.
You can see the picture above that process Assessment Worksheet, Image file for first part of it.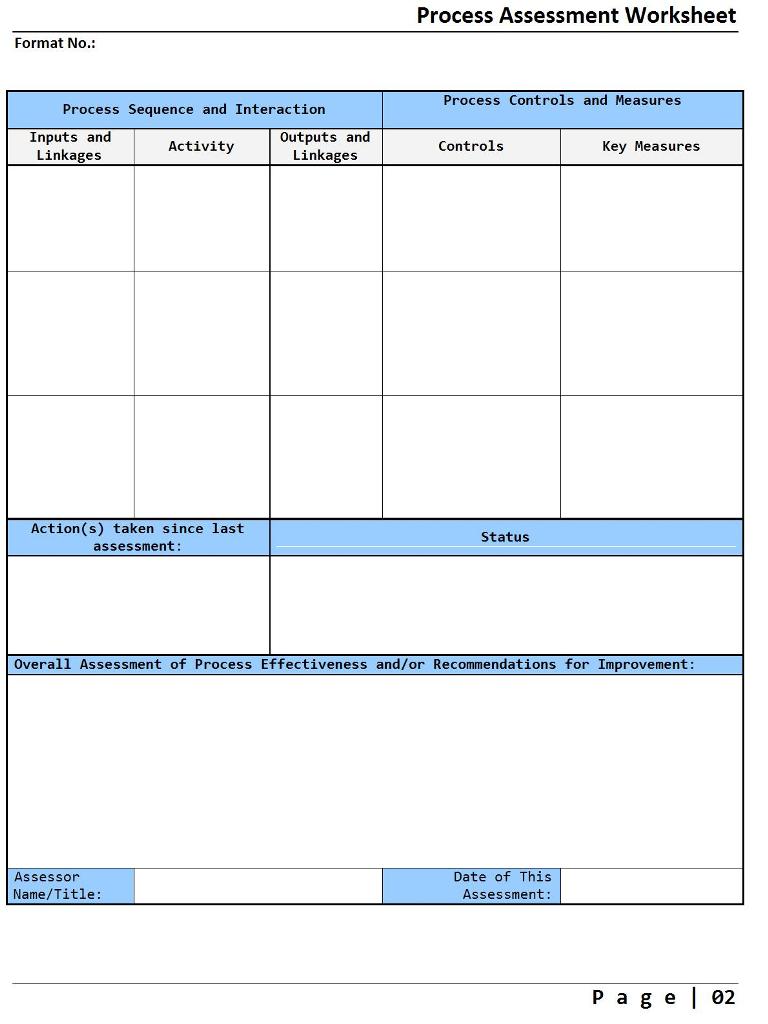 As you can see picture above is the part two of the Process assessment worksheet, which indicates the requirements of the fields are mentioned in format picture. There is you can see two part's format:
Process Sequence and interaction
Process Controls and measures
In the first parts that process structures and activity in process, through out and linkages of the process, inputs and linkages are  need to review in meeting that organized annually, all the input & linkages are mentioned in that column that significant impact on QMS can be possible.
Activity fields, that all the plans and schedules are need to review as active part that materials are comes from input part, material that can be data should be analysis as activity, trends for process / functions should be reviewed, Analysis by management.
In line with input and activity, output should be concern to those inputs and activities, all the plans and schedules as activity are indicating Agenda that is output of the process sequence.
In the second part, should be controls and key measures are you can see in picture format, as came output of process sequence and interaction, controls are need to incorporate as controlling of agenda should be formally declarations in house announcement.
Key Measures should be all the participants are reviewed and discuss on agenda that key performance indicator i.e. objective of agenda's requirements linkages are covered, improve, corrective – preventive actions discussed.
In finally, actions are taken since last assessment and its status should be mentioned in the form. Effectiveness are major requirement of any activity are performed.
For the deep understanding and effectively implementation of the process assessment are here sample format are available for download as below:
——————————————- Download ——————————————-
Process assessment worksheet format in Word Document Format
Process assessment form in word document / PDF Format / JPEG format
Process assessment worksheet Template, Format, Form, Sample, Example
——————————————- Download ——————————————-