Shipment planning worksheet
Sales growth is one of the major objective for any company, when parts / material is ready for the dispatch but the material is not dispatched mean that all are hidden losses for company, that is the reason companies are making the planning for the dispatch before the produce material, when the material is prepared for the dispatch that immediate ship the material to save the extra expense that happen due to material storage and maintain.
 Generally companies are planned as per the material and frequency of the customer requirements, customer requirements are depends on the material's application building or development concern, when the company are going to planning for the material shipment that all the concern issues can be need to discuss for the material minimize time of storage at workplace.
Shipment planning worksheet is the document through possible to planning for dispatch the material, generally companies are planned for the upcoming three months to understand the market up down streams, when the market steam is un stable than need to much brain storming for the planning of the shipment material to customer.
Shipment planning worksheet, here prepared simple as product and month wise possible shipment quantity and possible date for the shipment for the one product and same for the other product for each month.
For this records, need to approvals from quality department, dispatch department, production department and packing department or need to discussed in meeting with all the concern department for the planning of the dispatch the material, otherwise the communication gap can be break the planning and possibility of shipment as planned in worksheet.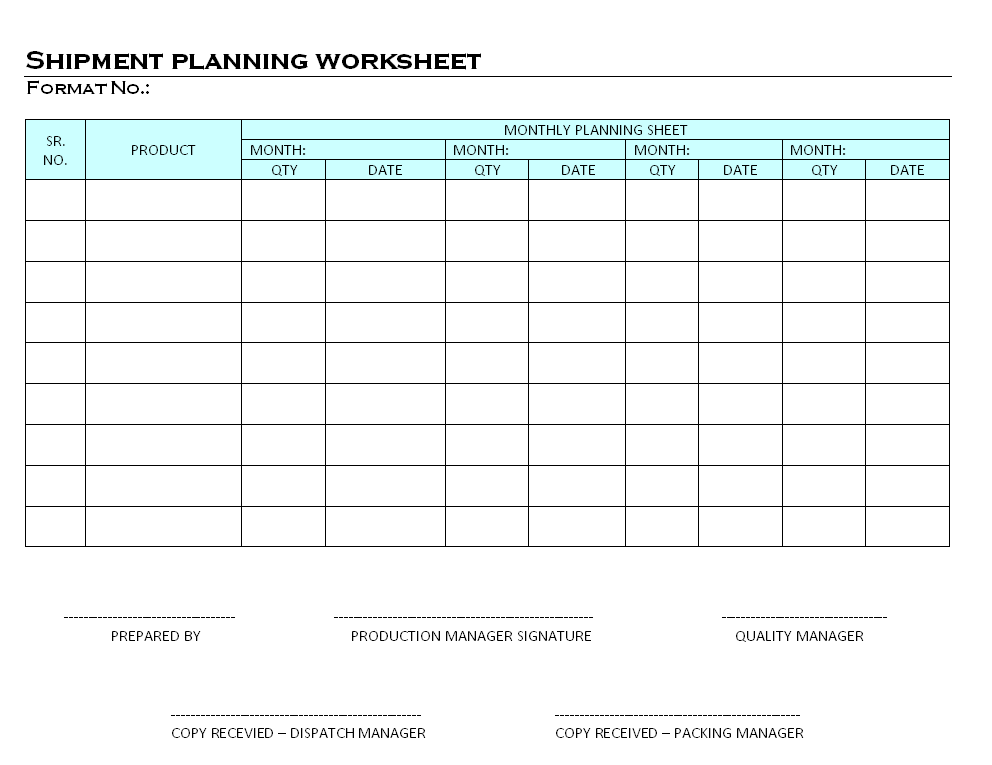 EXAMPLES, SAMPLES & FORMATS