Procurement review documentation
Procurement review documentation establish for reviews activity and procurement process concern documentation verify and recording of reviews.
Procurement review documentation are prepared for conducting records of procurement process reviews, identification of non-conformance in the process system, verification of documents of procurement processes, the entire system reviews is conducted to ensure that procurement processes is conducting each task as per standards system and requirements of internal management. The purpose of the system, procurement reviews is to verification of procurement internal system to ensure that incoming materials quality, documentation is conducted as per various departments of company's requirements, standards and end application requirements for customer satisfaction. The procurement reviews is part of internal audit that all reviews process are managed and procedure is follows accordingly. The product is purchasing from various suppliers are managed, and its whole process is conduct by procurement team that it is important for management to conducting reviews process for identify internal requirements, standards of product manufacturing and requirements of various department, the process of reviews are managed and each records are tracking, verification and identification of non-conformance for improvement of procurement system.
Procurement reviews documentation is prepared by management team, management representative is responsible for prepare documentation for procurement reviews, procurement reviews procedure preparation and deployment, and monitoring on the entire process of procurement reviews are conducted by qualified team, the records for the procurement reviews are conducted and managed each document by review team. The document is prepared by procurement review team is procurement review checklist is used to managing records and reviews process, see picture below given as example format of procurement review checklist for education purpose: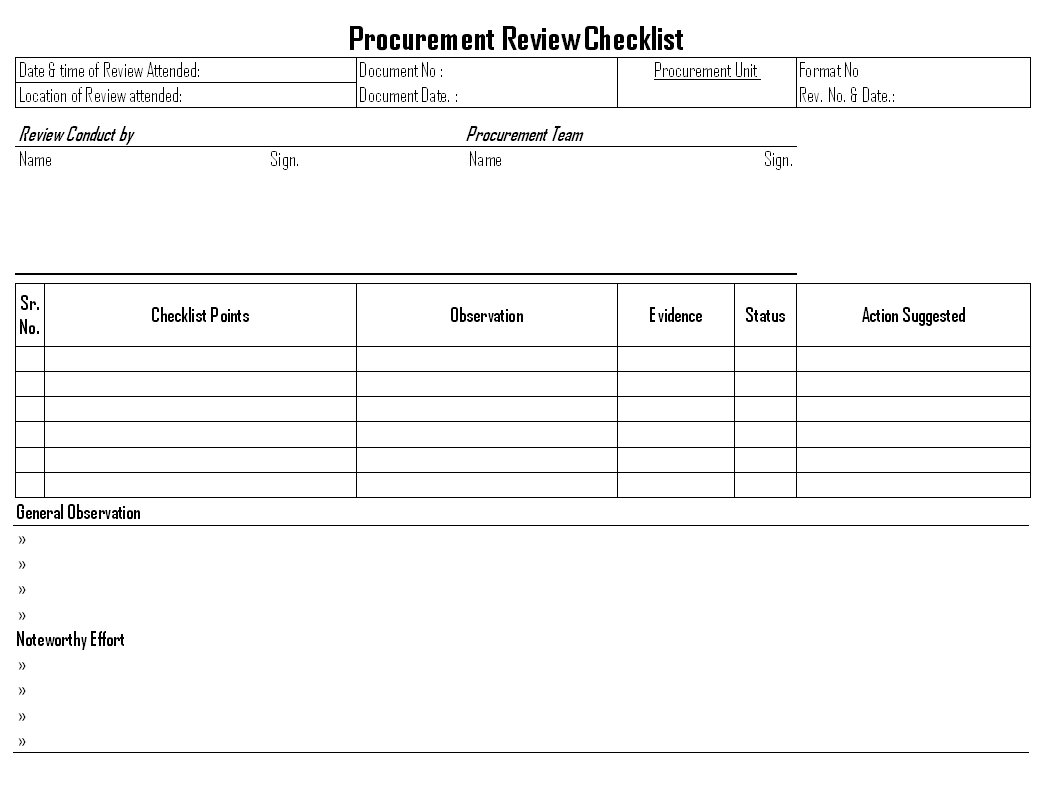 Procurement review checklist is prepared by procurement reviews team, the documentation are maintained and update as per standards system and requirements, procurement authority is conducting non-conformity identified during reviews by review team for improvement of system. The documentation for the procurement reviews are recorded and storage at audit team and its records are maintained as per standards system.
—————————————————————————-
Download format in word document | Excel Sheet | PDF format
—————————————————————————-