A incoming material inspection is quality control process. These process ensure the product quality, to inspect incoming materials' measurements, counting, compare standard requirements and evaluate purchased components.
Overview
For effective control over the final product, you have to define control measures at all the stages of production. As same way, incoming materials i.e. raw materials are first step of the manufacturing processes. Hence this is very important to fully control over all raw materials. To establish incoming material quality control, require structural system. Which through All receiving material inspection on various function, and controls are possible.
Define responsibility
Generally, quality assurance and quality control are responsible for conducting inspection and control process. The responsibility, and duties are define by quality assurance manager for all quality engineer. Each quality engineer will be dedicated for quality inspection of incoming materials. Each task of raw material i.e. raw material internal process stage wise inspection are mostly recommends by standards.
Inspection planning
The controls over the purchasing activities are one of the major part of quality control. Which is directly impact on completion of job, and quality final product. Quality control team needs to review, how the incoming materials inspection want to conduct?. Mostly in industry following types of categorized inspection are conducting:
On priority of production line requirements, Once the materials demands are comes from production lines.
Supplier, manufacturers, distributions or contractors wise inspection.
On inputs of materials.
On types of materials ( Depends on materials storage, self life, storage conditions etc..)
Multiple department involvement
This process is related to quality assurance, production, raw material storage and purchasing department. Hence the impact of inspection results are directly or indirectly affecting on the sections. As you know, The procurement team is indirectly related with incoming material inspection. But quality assurance team is receiving inspection information, when the order placed, and details are received.
Purchasing Team
The purchasing team is responsible for ensure that, all materials purchased are according to ordered. Categorize and supply to raw material department for storage. The review of documents comes along with raw materials, bill of materials etc., are accordingly.  The purchasing team are also verify with design team for drawing of materials are received are correct.
Production Team
Production team are responsible for verify the materials are according to order placed. The end application requirements will be comply by use the material received. As well verify the technical & specific requirements of customer with material received. That will be manage through sampling and testing from incoming materials.
Quality Team
Quality engineers responsible for verification of product specifications and technical details with incoming materials. The drawing, specifications, technical and customer provided end application's characteristics requirements must be met to procured materials. Once All the initial verification are completed, quality team certify that the materials are received and verified are inspected as per standards at supplier end.
Material Inspection
Quality engineers are conducting last stage of inspection, once the quality head confirmation. This inspection process is conducted with every piece of material received. The inspection process conducts as per received material's standards and customer expected technical requirements.  There are also verify the damage has occurred to the packages during their transit from supplier to organization area.During the inspection process quality engineers are verify that the materials are not damaged, leakage, or any other issues. Generally, inspection process cover all the require verification of documentation related to purchased materials.
Raw material Team
Raw materials team are verify and storage all the incoming materials. Generally, material category, FIFO / LIFO or as per standard practice all the materials are stage at storage area. The Raw materials team are require to actively participate in incoming material inspection process. The role of raw material team is not limit, it start from begging to end of material dispatch from it's location.
Outputs from incoming materials inspection and actions.
The inspection process results may confirm that the product meeting the standard requirements or . In case of any materials non-conformity identify by inspection team. The team prepare document of non-conformity and provides to purchase department. Purchase team are verify the details and update supplier for the identified non-conformity. Quality team inform to raw material team for the identified non-conformity. The Raw material team manage the materials separately till not received any further confirmation from quality assurance team.
Handling Rejected Materials.
Raw material team manage materials having non-conformity. The identified non-conformity materials are require to properly labeled with "rejected materials" or any similar word (which is in best practice of organization). I personally recommend that rejected materials with labels, color code are much appreciate for easy identify and tracking. Rejected Materials with "Color Code" and "Identified Tag" are helpful for tracking it.
All the non-confirmed materials with keep maintain with original package are appreciate practice for organization.  All the identified and segregated non-confirmed materials are review by quality team. The team may performing  further actions it may includes returned, replace or used with minor repairing.
Documents of incoming materials
The received inspection documentation, records, are store in the specific location as per mentioned in standard documentation system. The quality team prepare documents, once all the inspection processes are complete. All the review document are require to maintain separately. Try to make separate file purchase order wise. Any unique code for each file and document, and attachment will make the good coding system. Which will be easier for tracking.  See picture below provided for education purpose: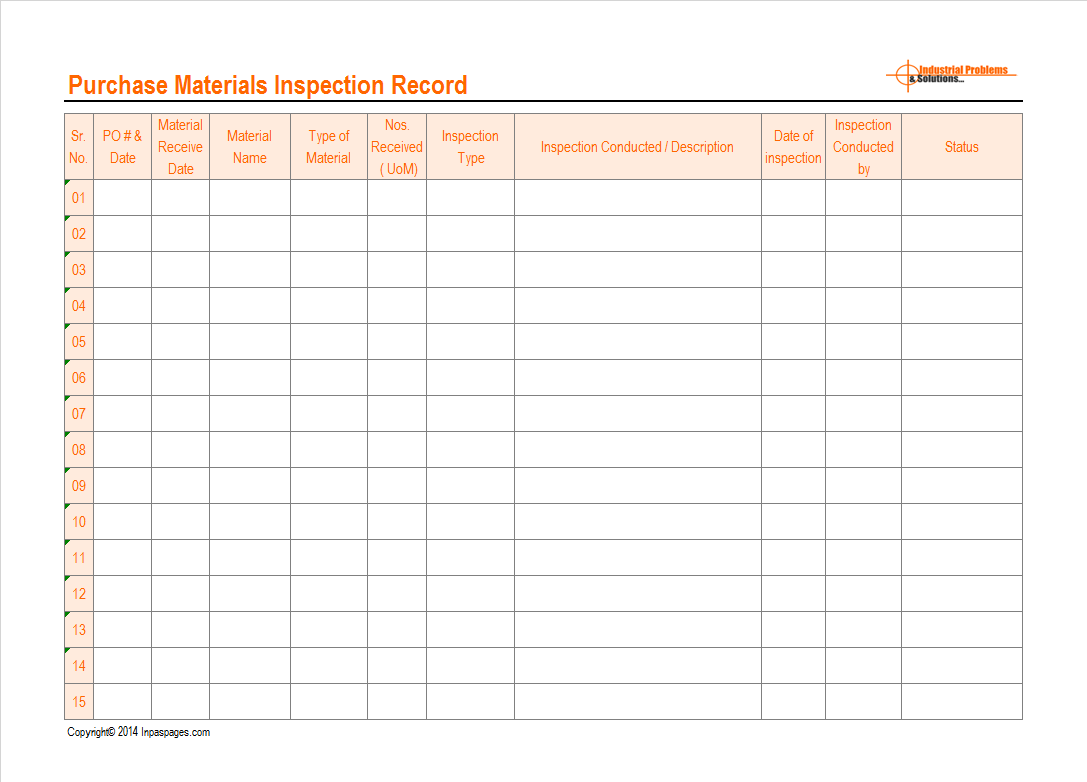 ---
---