Production Analysis Sheet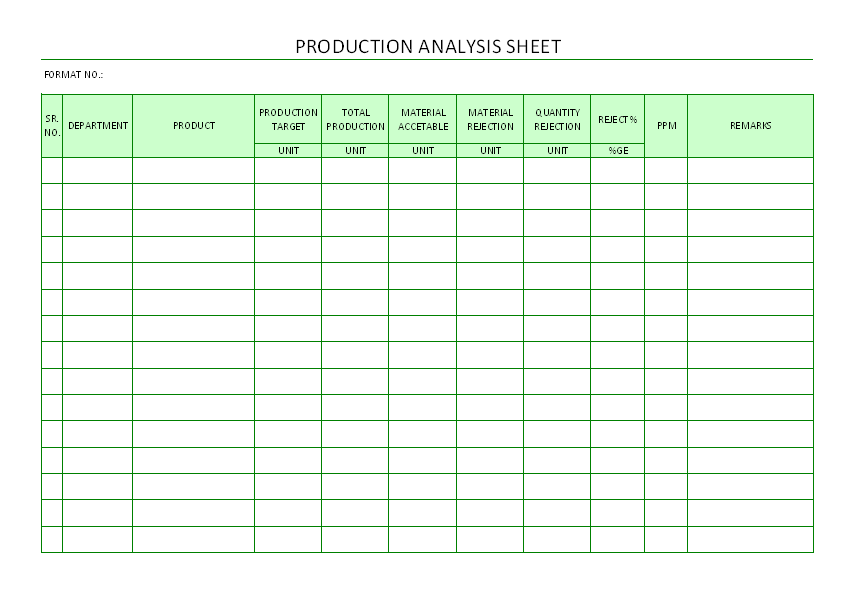 Department – Production Analysis perform for department that name of the particular department.

Product – Name of the product and description that production analysis are need to perform.

Production Target – Target quantity of the production at production line

Total Production – This total production is actual production against target / scheduled production at plant.

Material Acceptable – Acceptable material at the stage of in process quality testing.

Material rejection – Quality testing at in process inspection, that mostly in all the process stage wise required, as per product and company structure of the quality management.

Quantity Rejection – Material rejection quantity

Percentage of the rejections

PPM – PPM stand for part per million, that analysis for the rejected material of the production line in PPM to understand the rejection level.
EXAMPLES, SAMPLES & FORMATS
You would also like to read:
PRODUCTION PLANNING SHEET
MACHINE PRODUCTION LOG
PRODUCTION SCHEDULE VS ACTUAL
PRODUCTION DOWNTIME RECORD SHEET
MONTHLY PRODUCTION PLAN FORMAT
PRODUCTION ROUTE CARD
DAILY MACHINE PRODUCTION REPORT
PRODUCTION ANALYSIS REPORT
PRODUCTION AUDIT CHECKLIST