Program change in manufacturing processes
Program change in manufacturing processes is conducted to amending processes, materials or any sequences on instruction of customers or internal request.
Program change in manufacturing processes are established on request of customers or raised by internal requests that directly affects or needs to amending on manufacturing process, material change or any process sequence change to managing customer instruction for compliance of end application requirements or requirements end application changes. The system is deployed to considering requirements of customers that the ongoing running programs are changed, deleted or amended as per sequences, processes required to maintain customer requirements. Program change in manufacturing process is important part of the manufacturing that all running processes are affecting during program change but to compliance of requirements of customer needs to amend as per standards applied by customer. Program change instruction is set of instruction which is provided by customers against its purchase order and ongoing processes, on instruction of customers; manufacturing management is considering instruction and applied in the manufacturing processes.
Program change in manufacturing and its procedures, documentation are conducted by general manager, general manager is responsible to conducting manufacturing processes change, and implementation of program change and controls on effect on manufacturing processes, manager is conducting activity to maintain and balancing situation on change affects on manufacturing process. Program change instruction is comes from customer which received by marketing team, all the change request by customer is received and forwarded to general manager for made effects as requested. General Manager prepared program change instruction sheet as per customer given instructions and applied at appropriate processes. See picture below given example format of program change instruction sheet for education purpose: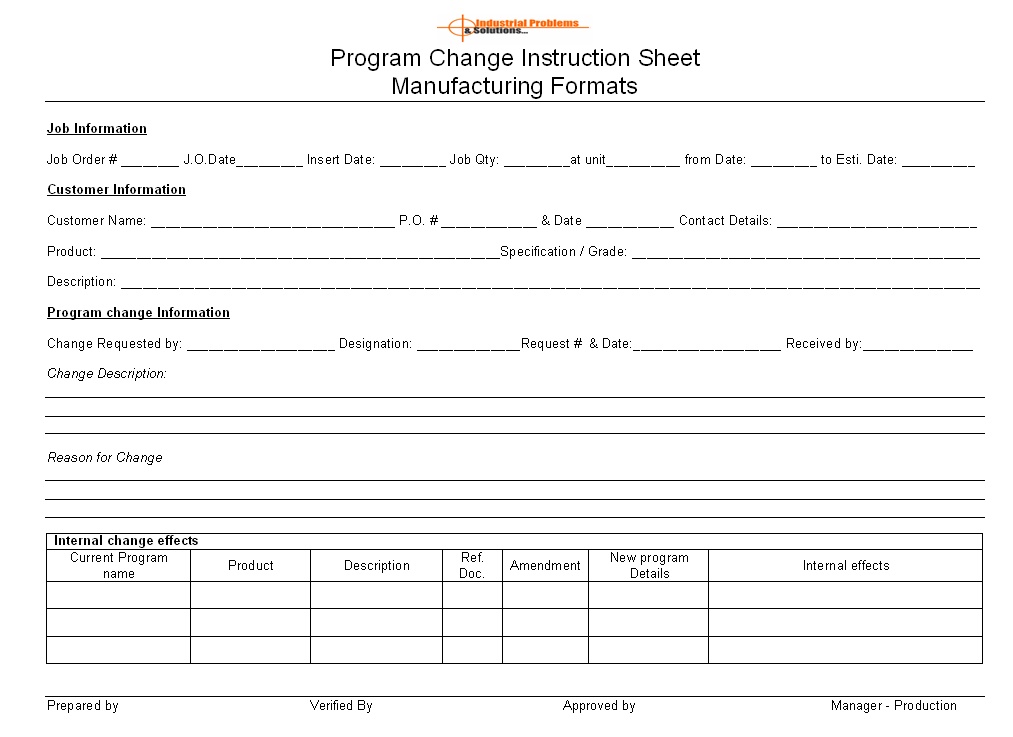 Program change instruction sheet is established by general manger where all concern details are involved to possible change effects could make in manufacturing process. the system is maintained for understand of changes which are not as per schedules that directly effects are goes to planning, planning team is managing changes & further roots are manage for producing materials to considering engagement of machinery and equipment. The program change instruction sheet is covered job information, customer information, Program change information and internal change effects are major factors that needs to considered and manage accordingly.
——————————————————————–
Download format in Word document | Excel Sheet | PDF format
——————————————————————–