Quality rejection documentation
Quality rejection documentation is established to improvement of product quality on rejected product due to poor quality records and its effective analysis.
Quality rejection documentations are established for the recording information which is collected quality inspections, that can be in-process inspection and final inspection of product and during the quality inspection all the rejected product and its information are used for the analysis to improvement of quality. Quality rejection of product is result of quality inspection are conducted to ensure the product quality, incase of any product does not met the product standards, customer requirements or specification of product that the materials are rejected and storage separately. All the rejected materials records are conducted by quality team for analysis and identify reasons of rejection that used for further action plan to eliminate or minimize rejection of product and improve product quality.
The purpose of the quality rejection documentation is conducting the records of rejected product from manufacturing in-process inspection or product final quality inspection. All the rejected product records are conducted which quality inspection team is reported to quality head, information are collected from each report and also verify with rejected quality product storage, all collected information are filtered as reason wise to identify and monitor most frequent rejection reason to determine action plan for eliminate rejection possibility or minimize reject during manufacturing, material moving and storage activity. Quality rejection documentation responsible of quality engineers and verification and approval responsibility of quality head with determine action plan to control over rejection. Quality department collecting information and prepared the quality rejection record for filtering information which are being higher cause rejection of product, there are too type of filters are need to use, once is type of rejection and second is by the rejection, in the type of rejection is product defects that cause rejection and second by rejection can be conducted as human mistake, process faults, due to machine or equipment defects any other reasons are identify for particular product which is rejected. On after identification of reasons and type of rejection that quality team is determine required action plan, but the record which through all activities are conducted is the quality rejection summary report, on after collection all reports of rejection data that information are summarized and further action taken, see picture below given as example of quality rejection summary report for education purpose: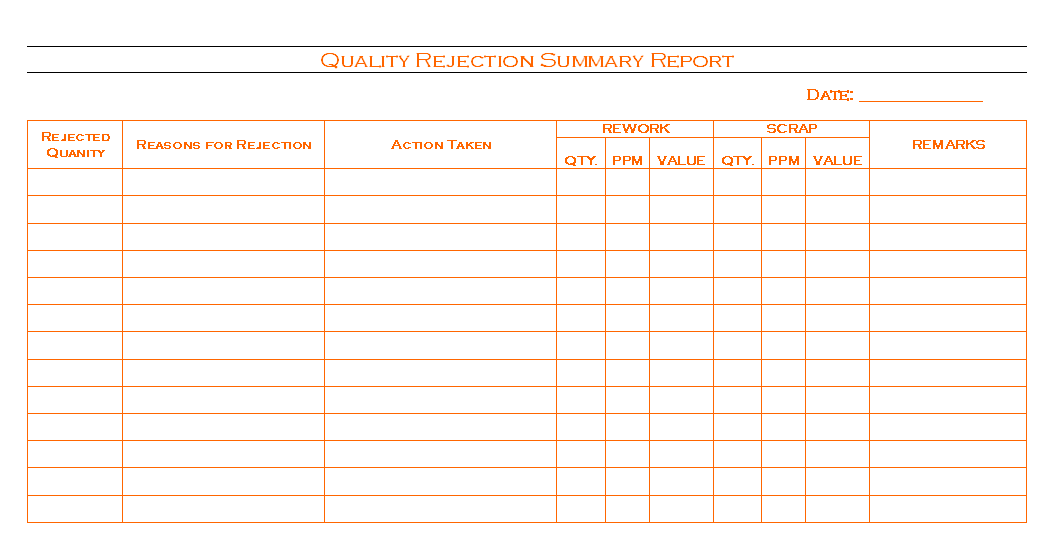 Quality rejection summary report is helps to quality team to determine action plan to conduct all the rejected materials and helps to quality rejected product either go for reworks or scrap, in the both condition company having the loss, in case of rework that on some loss material can be recovered but in case product identify as the scrap the it's a complete loss of product, overall rejection of material is complete loss for the company, hence quality rejection summary is given the idea to quality department for the identify the root causes of rejection and deploy any effective action plan and implement to manufacturing and supporting activities to control over rejection percentage in manufacturing unit.
———————————————————–
Download format in word document | Excel Sheet | PDF format
———————————————————–