Sample submission process is systematic method to collecting samples and submit to customer or authority for approvals. The process may use to conduct systematic steps for entire process to eliminate possibility of any mistakes.
Overview to Sample submission process
Sample submission process documents establish, maintain and update to managing requirements of submission process of sample from manufacturing in-process by concern supervisors. Normally  submitting sample for quality department, laboratory for the testing and inspection samples. To ensure the running product in manufacturing are as requirements, and as per standards that needs by customers.
The sample submission process is conduct by department supervisor for conducting the tasks to conform sample quality. When any product is running in manufacturing processes that concern supervisor conduct sample from ongoing processes as random selection.
The conduct sample are verify by supervisors and submitting to quality department for inspection as standards requirements of product, international standards for product. The customer technical requirements are consider during inspection process. The quality inspection team is conducting those sample and manage its records to provides result to concern department.
General Process
The quality team is managing sample as submit by concern department supervisor. On as define test methods, standard procedures & process guidelines by quality department head and customer indicate standards and end application requirements.
Objectively
The purpose of sample submission & sample inspection process are establishment needs to ensure in-process manufacturing activities. Product standards & other requirements are complying during activities. To ensure that the product is under production is accurate as per requirements of customers.
The sampling process
In case the sample having issues that ongoing product should needs to stop immediately. The directly impacting on the costing & activities that occur are manage as sample testing. In the manufacturing processes, conducting sampling from running product from production lines and submitting samples.
To quality department by concern supervisor, and responsible for managing all concern tasks and documentation. Hence quality inspection team is responsible for collecting samples, testing, managing sample inspection and concern documentation are conduct.
Documentation
The documentation is conduct by supervisor is sample submission form, supervisor is fill out sample submission and provide sample along with it. See picture below given as example format of sample submission form for education purpose: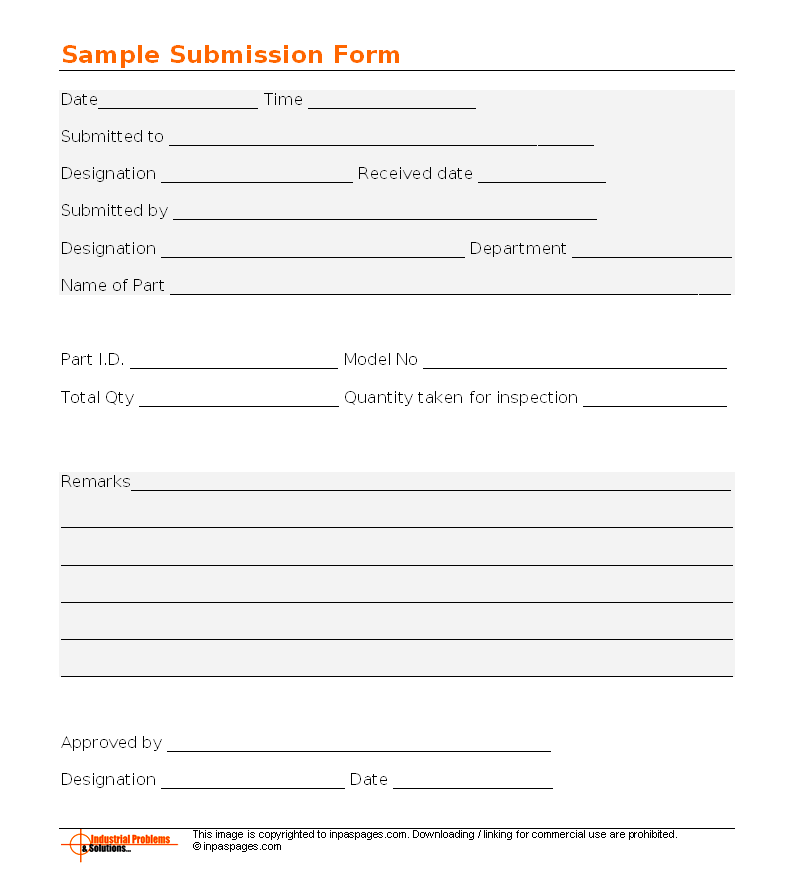 Sample submission form format
The sample submission form format is use for recording information of sample that needs to submit to quality department by concern department supervisor for ensure product quality. The format is use to managing activities, details of sample that randomly select from manufacturing processes are record in this format. Hence the concern details are manage as the remarks to acknowledge to quality department. If any clarification require concern samples.
The documentation are manage as communication and sharing information of samples, and this format is regular tasks that generally all kinds of industry use for manage its sampling. It may including in sampling plan for quality assurance.
—————————————————————————–
Download format in word document | Excel Sheet | PDF format
—————————————————————————–