Lead monitoring sheet
Manufacturing industry need some analysis to understand & tracking the system perfections of internal system and improvement for the same. Monitoring on any system and tracking each order given by customer are very important & after sales analysis of the each order is also very important to enhance services.
Customer wise or product wise product sales and delivery monitoring is the part of the quality management system, when the customer are place the order that expecting delivery, if the supplier are time place the delivery that not an issue but the supplier cant deliver the material than after some order the customer will be distrube due to unfair services, hence loss of customer and new orders to suppliers, but how to know each customer delivery time and makes the perfection in delivery. Lead monitoring records will be support in this case.
Lead monitoring sheet is the format that customer wise / order wise each expecting delivery and it schedules can be maintain, in case of the late delivery happen that without customer feedback, supplier get the information that delivery are not properly in time frame that immediately supplier take the action to provide material in time line.
Product ID
Product name
Customer name
Purchase order Number  & P.O. Date
Purchase order quantity
Purchase order acceptance date
production started date
Expected delivery date by customer
Ready for dispatch date
Product shipping date
Transit lead time
Customer received material date
manufacturing time
above given the point are for the lead monitoring sheet format field that is simple format to manage the information order wise and customer wise, this information is very useful and each industry must use to understand the real situation of the company's system and for the improvement in it.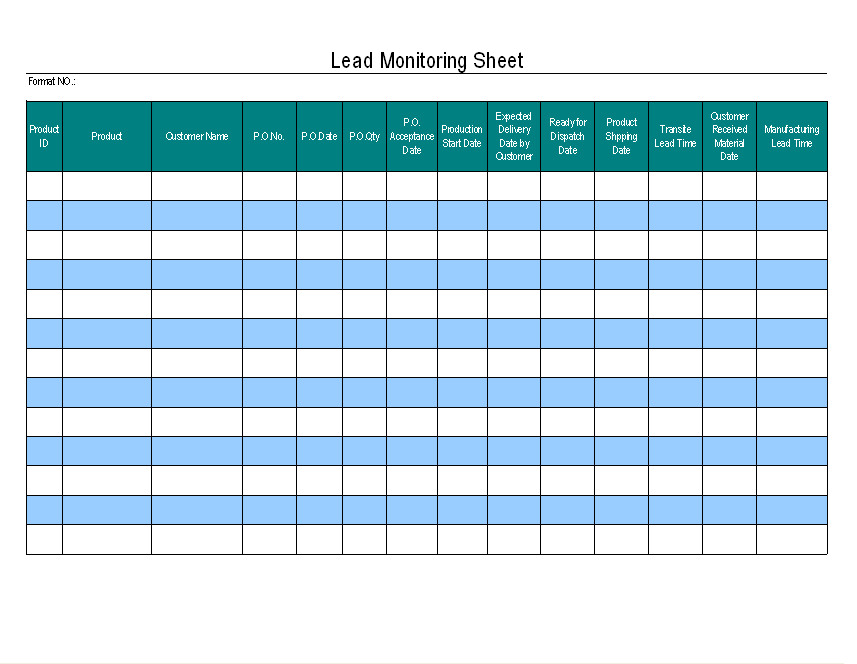 EXAMPLES, SAMPLES & FORMATS
You would also like to read: