Total Productive Maintenance (TPM)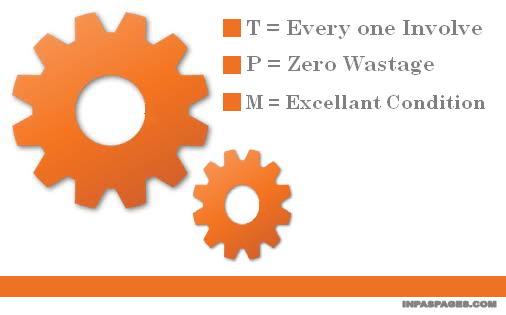 What is Total productive maintenance?
Total Productive maintenance (TPM) is a System that involves peoples for optimizing the productivity by systematically machine / equipment / devices / instruments maintenance, Preventive maintenance, 5S, Cleaning Lubrication Inspection Tightening concept can be merged by gives a effective training to peoples of organization to comply role of peoples that motive to peoples aware more & more.
Goal of Total Productive Maintenance is eliminate losses & wastes to increase productivity, a loss that comes from:
Machine & equipment repairing
Machine Setup & Change over
Un scheduled maintenance
Defects of raw material cause breakdown
Speed changes (not as per machine parameters)  etc,
Its all can possible to reduce by Management commitment, preventive maintenance, awareness of operation's peoples, trainings & improvement programs that help to people for more productive & efficient to pull up the concept of TPM.
For success of Total Productive maintenance need to focus:
People's awareness & involvement:
To achieve goal of Total Productive Maintenance (TPM) are need to focus on peoples participate that primary role in this system, the concept of real system where in everyone are involve to reduction of losses in its area by changes its attitude that comes across of system, whether operator feels responsibility for its machines can run without any breakdown & take the task regular cleaning, lubrication preventive can possible to minimize breakdown to enhance productivity.
Machine & Equipment:
A biggest part of this concert are on base of machine & equipment that responsible for losses & emissions that produces if designing of the machine, condition & parts not accurate. Its all upon management support are need to activate for equipment & machines are on well conditions & proper set. Improper method like a inaccurate information & communication system, unorganized storage cause losses.
Time Factor:
One of most important part that need to focus on time manor, valuable times loss reducing productivity. Utilization of machine & humans are most important to eliminate unvalued time.
How to implement Total Productive Maintenance?
It's very important to data analysis of all machines to respect time, but data that collecting, use & analysis should be in right manner.
OEE (Overall Equipment efficiency) show the real picture of the utilization of machine that help to effective utilize the machine for gain up production.
Focus on 5S, Cleaning Lubrication inspection Tightening concept, Training & awareness Program, Motivation programs.
Contribution of management involvement, commitments & supports