Certificate of conformity for product
Certificate of conformity provided for given assurance the product supplied is properly tested and verified as per product standards and requirements.
Certificate of conformity is provided by supplier to customer as assurance of product that is guarantee of the product to complied standards. Supplier is provided certificate of conformity is for product to given assurance of product supplied to customer are properly tested all quality tests, inspected and verified requirements of the product standards and quality standards. The certificate of conformity is issued on the product sold to customers, and the standard requirements and product specification are complied, and end application requirements are considered as per customer requirements are considered and provided in certificate of conformity which is provided on base of the internal quality inspection / third party inspection conducting in-house by qualified agency. Certificate is conformation of the product is properly inspection and passed all quality tests as per standards requirements and supplier given certificate as assurance of it.
Certificate of conformity is responsibility of quality manager, and all concern process and assurance of the product is conducted by quality department, so its important for the quality department each product should be properly conducted as per standards and certification of conformity can provide to customer as assurance of product quality. Quality manager is also responsible for all the customer required tests and product required standards should conducted and verified product quality and on base of the quality inspection quality manger is issued certificate of conformity for customers. See picture below given as example format of certificate of conformity for education purpose: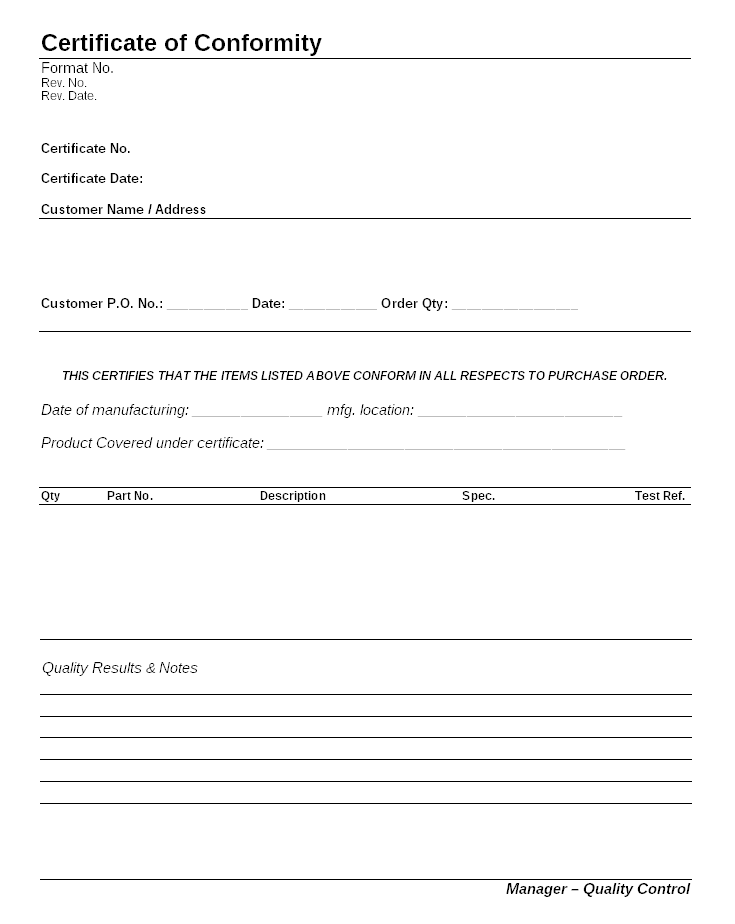 In the certificate of conformity covered customer information, product standard requirements and complied quality results and testing conducting during manufacturing processes and final quality inspection are mentioned, conformity is promise of the product is fulfilled all requirements of customer technical requirements and standards which product needs to conducted in final quality inspection are conducted at in-house or on witness of third party inspection agency which qualified for conducting inspection. Certificate of conformity provided to customer and its concern records are handled and storage at quality department.
————————————————————————-
Download Format in word document | Excel Sheet | PDF format
————————————————————————-